When the COVID-19 pandemic stopped the world, the yachting industry was put on hold as well. Businesses could not meet; boat shows were cancelled one after the other, and the future was uncertain. That is why ICE, the biggest B2B yacht charter expo in the world went digital.  It was the only logical and safe solution. ICE'20 digital was well accepted, as more than 300 business representatives from more than 35 countries took part. Many ICE partners requested a new digital event in April, just before the season begins.
Of course, the success of digital ICE'20 was not guaranteed, and people had their doubts as it was something completely new and unknown. However, doing our best to connect fleet operators, suppliers, and brokers from all over the world, our team made it work. Our partners were very happy with the overall event and the meetings they had. 
"This is not the first year we have been participating in ICE, but for the first time in an online format. I would like to say that the effectiveness of the negotiations was almost the same as ICE'19 in Vienna. This is incredibly interesting and useful for our business. Thank you for bringing us together and making our communication better. It is very important for us to feel that we are not alone in this field and there are hundreds of great companies that are going through this difficult year with us and making the yacht charter industry even better!" – Max Terbov, Sea Radar, Estonia
"Great digital experience by ICE! The event was a success, and it gave us the opportunity to meet industry professionals and attend interesting presentations, in an efficient way. Our company will definitely attend again!" – Andreas Georgatsos, Cavo Yachting, Greece
See what ICE'20 looked like from our partners' perspectives
What did ICE'20 look like?
ICE'20 featured seven halls with 112 digital booths where businesses could present themselves and visit other businesses and new partners. Demo of the halls can be seen here. Digital booths looked like real-life booths, with TVs, brochure racks for e-brochures, and 2D avatars. With this set-up and possibility to prearrange meetings with the Handshake matchmaking software, time was used more efficiently. Without the hassle of travelling and booking accommodation, businesses save both time and money. As a bonus, they hold meetings from the comfort of their home or office.
"Being able to meet with my present and potential partners without traveling to a different continent saves a lot of time and effort while delivering the same results". – Silvia Vlakancic, Anchor & Wine, U.S.A
We had some technical issues which happened the first day of the expo, after worldwide Amazon Web Services crashed for a few hours, and ICE team was on full support helping businesses manage to connect with other solutions. This year technical issues will be non-existent, as servers will also be backed up.
Apart from 30-minute B2B meetings, several premium suppliers had the opportunity to present their products/services to all ICE participants during 30-minute presentations. No one could have meetings during these time slots, and many businesses who attended the presentations were very active in the Q&A. Businesses needed to discuss some topics as well and give their opinions.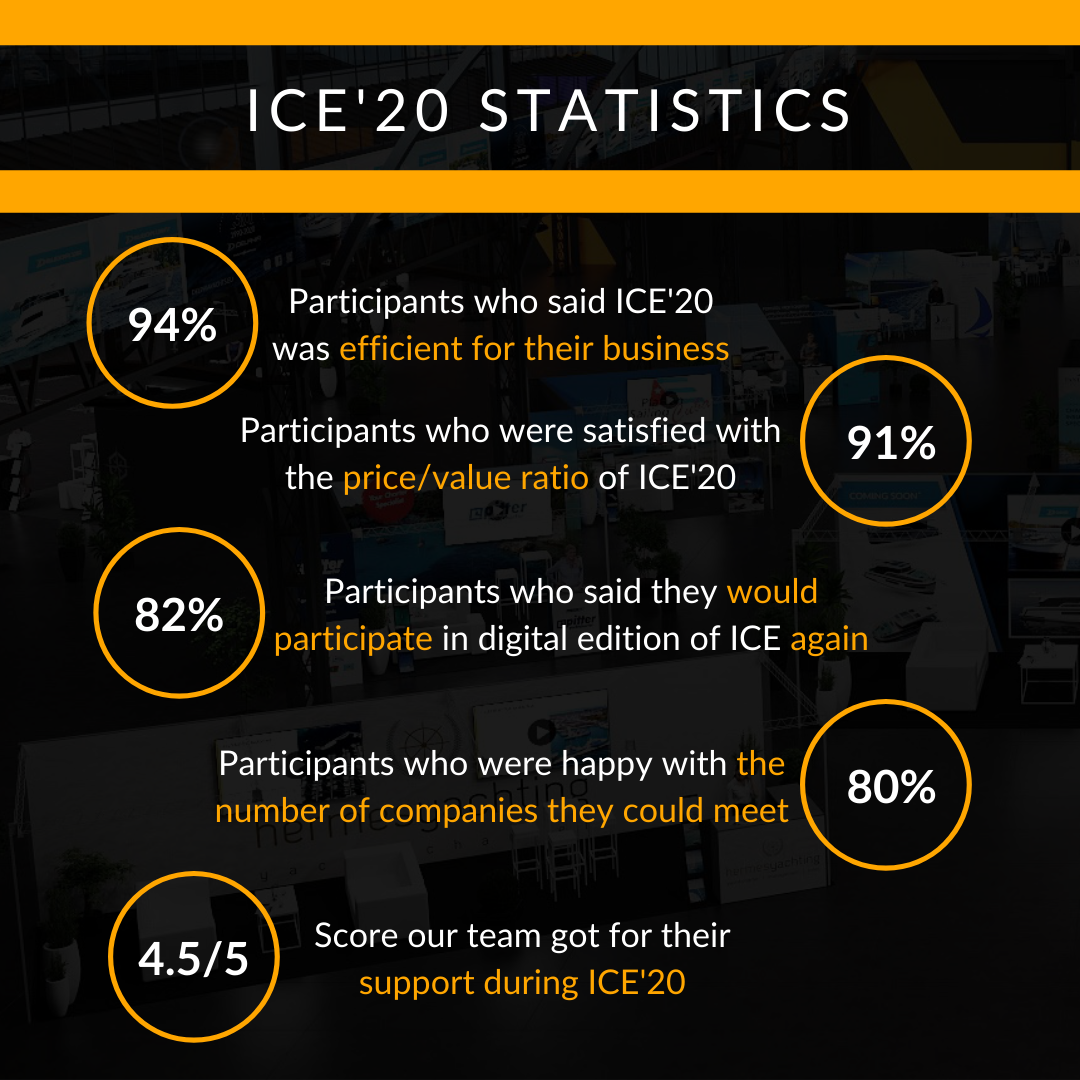 At ICE'20 there were more than 300 participants, from more than 35 countries, who held more than 3,500 meetings. We hope we will see you again this year in an even bigger number, so we can connect the yachting industry digitally once again before summer begins.
This year we turned the impossible into the possible! – Tatjana, Adria 4 Deluxe, Germany
Want to meet with new and old business partners? Register here.