The newest exclusive sector at ice
One meeting point for all Central Agents & Brokers
Crewed Private Charters and Yachts
Due to the significant increase in demand of Crewed and Luxury services and charters, and wealthier clients, a new designated area has been introduced to ICE this year. Meet Crewed and Luxury fleet operators and central agents from Greece, Croatia, Turkey, Italy etc. all in one place. 
Whether you are a broker wishing to expand your offers to your clients, a fleet operator wishing to grow your business network and contacts, or a supplier and booking system wishing to make new business deals, explore the new Crewed and Luxury sector and see who you can meet there.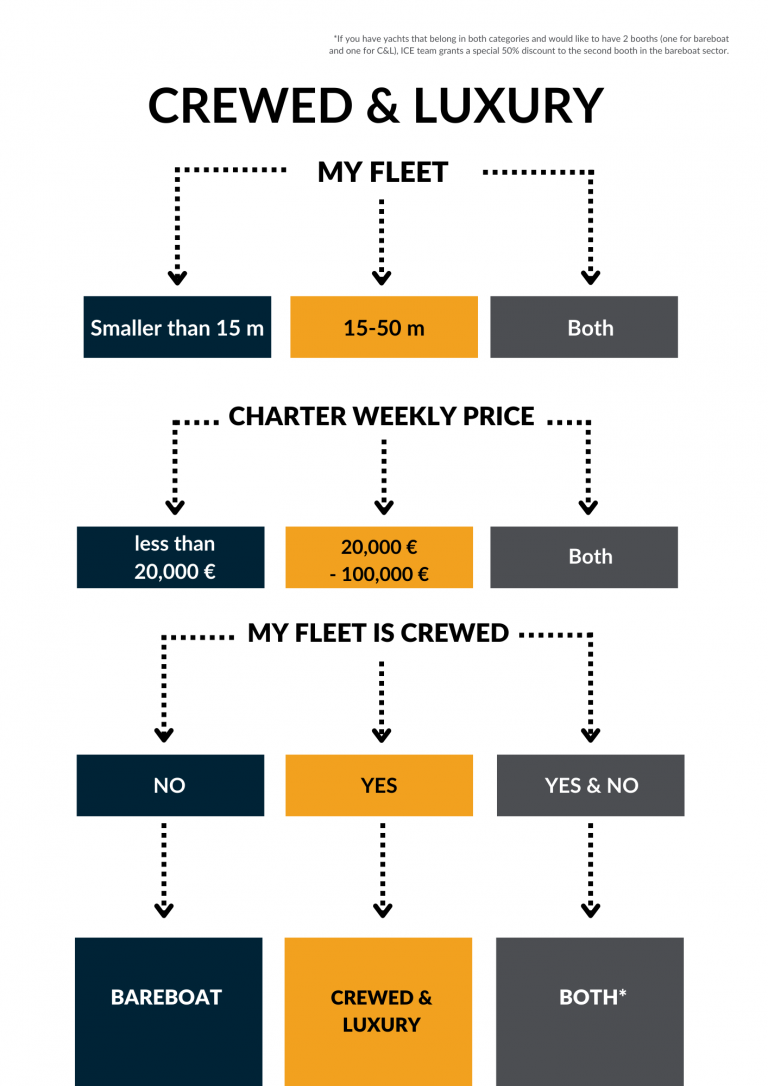 Meet Crewed & Luxury companies
Central Agents and owners of motor yachts, sailing yachts, gulets, catamarans or mini cruisers that are fully crewed and whose yachts fit the parameters below, can exhibit in the exclusive Crewed and Luxury area.
• Vessel size: 15m – 50m
• Charter week price: 20,000 € – 100,000 €
• Crewed Private Charters and Yachts
For the first time ever, Crewed Yachts were represented at ICE'22 – List of yachts represented by Central Agents and owners at ICE'22 can be found below. More than 200 yachts!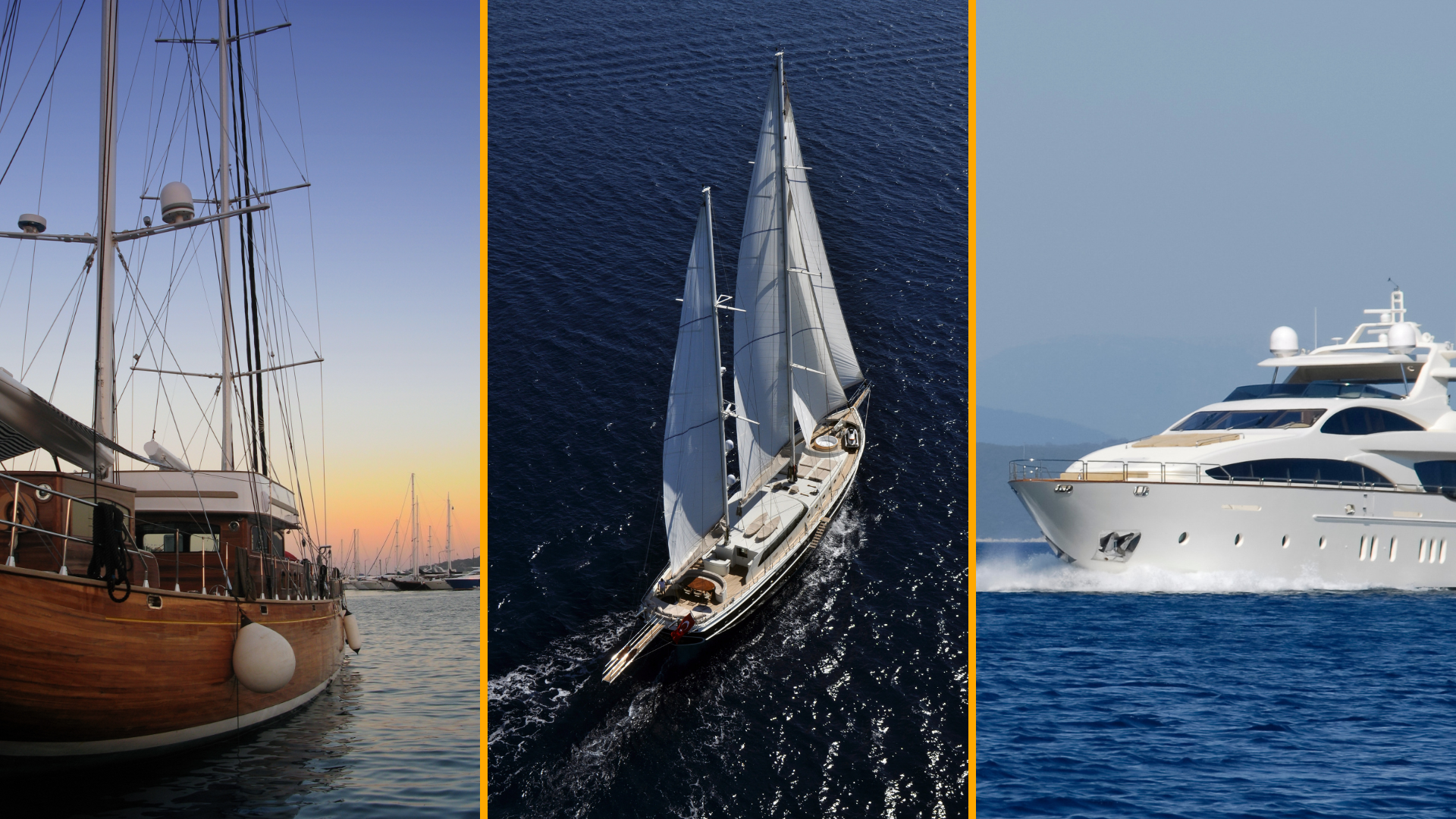 List of yachts operated by Central Agents at ICE'22


CROATIA 
MOTOR YACHTS 
ALALYA – ISA Yachts (47m) – Yacht IN
LADY TRUDY – CRN (43m) – Yacht IN
QUANTUM – Sunseeker Predator 108 – Yacht IN
DOMINIQUE – Ferretti 681 – Yacht IN
FRIEND'S BOAT – Ferretti Custom Line Navetta 26 – Yacht IN
ELIZABETH – Princess Y72 – Yacht IN
BOLLINGER – Azimut Magellano 66 – Yacht IN
Relax Of Croatia – AZIMUT 72 Feel Yachting – Croatia Charter
Sassy – PRINCESS 62 – Feel Yachting – Croatia Charter
Ena 1 – Sunseeker Predator 62 – Feel Yachting – Croatia Charter
Shaft – PRESTIGE 590 FLY – Feel Yachting – Croatia Charter
Angelina M – Cranchi E 52 F – Feel Yachting – Croatia Charter
Maja 2 – Sealine T50 – Feel Yachting – Croatia Charter
X – Sunseeker Predator 50 – Feel Yachting – Croatia Charter
ARGO – ICY (55m) – Touch Adriatic
ANAVI – Admiral (36m) – Touch Adriatic 
HEED – Azimut Grande 35M – Touch Adriatic 
PRINCESS LONA – Tecnomar Nadara 35M – Touch Adriatic 
CASSIOPEIA – Sunseeker 34M – Touch Adriatic
SEVENTH SENSE – Ferretti Custom Line Navetta 33 – Touch Adriatic
MILAYA – Timmerman 33 – Touch Adriatic
BABY I – Sunseeker Yacht 105 – Touch Adriatic
IVA – Ferretti 960 – Touch Adriatic
GRACE – Aegean Yachts (28m) – Touch Adriatic
MISS KATARIINA – Ferretti 880 – Touch Adriatic
DAWO – Azimut Grande 27M – Touch Adriatic
THE BEST WAY – Sunseeker Yacht 86 – Touch Adriatic
LUDI – CERRI 86 – Touch Adriatic
JOHNSON BABY – Johnson 87 – Touch Adriatic
KARISMA – Canados 86 – Touch Adriatic
RIVA 85 M-Y 888 – Riva 85 – Touch Adriatic
INSIEME – Princess 85 Fly – Touch Adriatic
AGAVE – Princess V85 – Touch Adriatic
JOY STAR – Arcadia 85 – Touch Adriatic
SECUNDUS – Sanlorenzo SL78 – Touch Adriatic
SCHATZI – Fairline Squadron 78 – Touch Adriatic
DUBAI – Maiora (24m) – Touch Adriatic
HAPPY FEET – Alalunga 78 – Touch Adriatic
PREWI – Azimut 78 – Touch Adriatic
QUO VADIS I – Ferretti 760 – Touch Adriatic
SOLAL – Sanlorenzo 82 – Touch Adriatic
A CLOUDY BAY – Sunseeker Manhattan 73 – Touch Adriatic 
ASKIM 3 – Fairline Squadron 74 – Touch Adriatic
GLORIOUS – Sunseeker Predator 72 – Touch Adriatic
HOPE I – Maiora 20S – Touch Adriatic
PANTA REI – Monachus 70 Fly – Touch Adriatic
SIMULL – Prestige 630S – Touch Adriatic
PAMANGO – Princess 62 – Touch Adriatic
SPICE OF LIFE II – Princess V65 – Touch Adriatic
VANQUISH II – Riva 63 Virtus – Touch Adriatic
M-Y Lukas – Fillipetti 760 Evo marine – Bomi Ship
M-Y Salt – Fillipetti 760 Evo marine – Bomi Ship
M-Y Marino – Ferretti 730 – Bomi Ship
M-Y Jantar – Maiora 21 – Bomi Ship
M-Y Maoro – Azimut 68 – Bomi Ship
Blue Moon – Explorer Fly 62 – Heads Yachting
Explosion – Explorer 62 – Heads Yachting
Karat II – Azimut 66 – Heads Yachting
Galeon 680 – Paradise – Heads Yachting
Timeless yacht 78' – Timeless – Heads Yachting
Dawo – Azimut Grande – Splendid Yachting
Prewi – Azimut 78 Fly – Splendid Yachting
Alyss – Azimut 72 Fly – Splendid Yachting
Le Chiffre – Galeon 640 Fly – Splendid Yachting
Lady Z – Azimut 58 Fly – Splendid Yachting
My Laura – Azimut 60 Fly – Splendid Yachting
Mini Too – Azimut 55 S – Splendid Yachting
Mawi – Azimut 55 Fly – Splendid Yachting
Fellow III – Azimut Atlantis 50 HT – Splendid Yachting
Senza Parole – Aicon 56 S Fly – Splendid Yachting
Skyfall – Azimut 47 Fly – Splendid Yachting
Adriatic Z – Aquila Power Cat 44 – Splendid Yachting
Solitaire – Fairline Squadron 42 Fly – Splendid Yachting
Gallant – Custom 31 – Master Charter
Olimp – Custom 49 – Master Charter
Play Fellow – Custom 30 – Master Charter
Novi Dan – Custom 27 – ADRIA-SAIL

CROATIA
CABIN CRUISER
M-Y ALMISSA – Custom (40m) – A-Yachts
M-Y Lupus Mare  – Custom (42m) – A-Yachts
LA PERLA – Belena (49m) – Touch Adriatic
CROATIA
GULET
Gulet Alisa – Custom – BARKETA 
Gulet Atalanta – Custom – Denebola 
Dona – Custom – Orvas Yachting
San – Custom – Orvas Yachting
Summer Princess – Custom – Orvas Yachting
Trebenna – Custom – Orvas Yachting
Sirena – Custom – Gulet Broker
STELLA MARIS – Custom – Otium Yachts
LOTUS – Custom – Otium Yachts
TAJNA MORA – Custom – Otium Yachts
LIBRA – Custom – Otium Yachts
Gulet Sea Breeze – Custom – MY Sea Breeze 
Allure – Custom (29m) – Master Charter
Altair – Custom (25m) – Master Charter
Fortuna – Custom (33m) – Master Charter
Morning Star – Custom (27m) – Master Charter
Romanca – Custom (28m) – Master Charter
Cataleya – Custom (35m) – Master Charter
Gulet Aurum – Custom (33m)- Gacina Adriatic Charter
Carpe Diem 7 – Custom 30.8 – Carpe Diem Cruising
Elena – Custom 26.5 – Carpe Diem Cruising

CROATIA
MOTOR SAILOR
ACAPELLA – Custom (49m) – Otium Yachts
NAVILUX – Custom (37m) – Otium Yachts
Love Story – Custom 43.25 – Master Charter
CLASE AZUL – Custom (48m) – Touch Adriatic
M-S Scorpios – Custom Line (51m) – Bomi Ship
M-S Aurum sky – Custom Line (43m) – Bomi Ship
M-Y Barbara – Custom (41m) – Barbara cruising 
M-Y Casablanca – Custom (56m) – Barbara cruising 
Animas Maris – Custom (49m) – Master Charter
Corsario – Custom (48m) – Master Charter
Dalmatino – Custom (44m) – Master Charter
Nocturno – Custom (48m) – Master Charter
Rara Avis – Custom (33m) – Master Charter

CROATIA
CREWED CATAMARAN
SKIMMER – BALANCE 760 – Yacht IN
AMADA MIA – Lagoon Sixty 5 – Touch Adriatic
SEA BLISS – Lagoon 560S2 – Istion Yachting
SERENITY – Lagoon 52 – Istion Yachting

Cool Change – Lagoon 560S2 – Cool Change Sailing Catamaran
PRINCESS APHRODITE – SABA 50 – Luxury Sailing
ROYAL CRACOW – SABA 50 – Luxury Sailing
Grey Goose I – Lagoon 450F – Catamaran Sailing
Grey Goose II – Lagoon 450F – Catamaran Sailing 

ITALY
CREWED CATAMARAN
Dragò – Lagoon 630 – Shamandura Charter
Kingfisher – Lagoon Sixty 5 – Shamandura Charter
Lady Rachel – Lagoon 620 – Shamandura Charter
Vida Boa II – Ipanema 58 – Shamandura Charter
The Sun – Lagoon 620 – North Sardinia Sail
STRAFICO – Lagoon 55 – Spartivento (SAILUXE line)
Soleanis II – Lagoon 620 Essence – Soleanis Luxury Charter
Soleanis – Lagoon 500 – Soleanis Luxury Charter
GREECE
MOTOR YACHT
STARLINK – Falcon 90 – FYLY Exclusive Yachts
SALTY – Alalunga 78 – FYLY Exclusive Yachts
M-Y PRINCESS L – Maiora 108 – Vernicos Yachts
M-Y LUCY PINK – Falcon 92 – Vernicos Yachts
M-Y LA FENICE – Azimut 85F – Vernicos Yachts
M-Y EFMARIA – Falcon 86 – Vernicos Yachts
M-Y SUPER TOY – Azimut 86 – Vernicos Yachts
M-Y JOHNNY HANDSOME – Posillipo 80 – Vernicos Yachts
M-Y KENTAVROS II – Ferretti 80 – Vernicos Yachts
M-Y MARLIN – Horizon 2210 – Vernicos Yachts
M-Y SERENE – Ferretti 68 – Vernicos Yachts
M-Y PROJECT STEEL – Bugari 112' – Istion Yachting
M-Y SUMMER FUN – Admiral 101' – Istion Yachting
M-Y WIDE LIBERTY – Torgem 92 – Istion Yachting
M-Y ESTIA YI – Ferretti 880 – Istion Yachting
M-Y ALEGRIA – San Lorenzo 82 – Istion Yachting
M-Y PAREAKI – Posillipo 80' – Istion Yachting
M-Y NATASSA – Posillipo 80' – Istion Yachting
M-Y ESTIA ZEUS – Azimut 74 solar – Istion Yachting
M-Y MEDUSA – Azimut 68' – Istion Yachting
M-Y MARY – Ferretti 68' – Istion Yachting
M-Y LADY L – Altamar 64' – Istion Yachting
NINETEEN – Ferretti 780 – Thrace Yachting
CAN'T REMEMBER – Technomar 35 – Istion Yachting
ORA G – Prestige 520 F – Stream Yachts
M/Y Elena – Perama (31m) – El Yachting

GREECE
MOTOR SAILOR
S-Y SPIRIT L – CCYD 85′ – Vernicos Yachts

GREECE
GULET
MYRA – Custom – FYLY Exclusive Yachts
M-S ALMYRA – Custom – Vernicos Yachts
Virtuoso – Custom – Barbaros Yachting

GREECE
CREWED CATAMARAN
GENNY – Sunreef 80 – FYLY Exclusive Yachts
ABOVE & BEYOND – Sunreef 80 – FYLY Exclusive Yachts
AGATA BLU – Sunreef 70 – FYLY Exclusive Yachts
APHAEA – Alegria 67 – FYLY Exclusive Yachts
KIMATA – Alegria 67 – FYLY Exclusive Yachts
PIXIE – Alegria 67 – FYLY Exclusive Yachts
ALEXANDRA II – Alegria 67 – FYLY Exclusive Yachts
ALOIA – Alegria 67 – FYLY Exclusive Yachts
SERENISSIMA – Alegria 67 – FYLY Exclusive Yachts
AETHER – Alegria 67 – FYLY Exclusive Yachts
WORLD'S END – Galathea 65 – FYLY Exclusive Yachts
SELENE – Lagoon 620 – FYLY Exclusive Yachts
CARPE DIEM – Lagoon 620 – FYLY Exclusive Yachts
GRACE – Lagoon 620 -FYLY Exclusive Yachts
ASTORIA – Samana 59 – FYLY Exclusive Yachts
NAMASTE – Samana 59 – FYLY Exclusive Yachts
ALLURE – Samana 59 – FYLY Exclusive Yachts
HIGHJINKS – Sanya 57 – FYLY Exclusive Yachts
HIGHJINKS II – Sanya 57 – FYLY Exclusive Yachts
ALTEYA – Sunreef 70 – FYLY Exclusive Yachts
JUST MARIE II – Lagoon 78 – FYLY Exclusive Yachts
CHRISTAL MIO – Power Alegria 67 – FYLY Exclusive Yachts
ALENA – Power Alegria 67 – FYLY Exclusive Yachts
TIAMO – Aquila 54 – FYLY Exclusive Yachts
S-Y VALIUM 67 – Lagoon Sixty 7 – Athenian Yachts
S-Y WHITE CAPS – Lagoon Sixty 5 – Athenian Yachts
S-Y VALIUM 62 – Lagoon 620 – Athenian Yachts
S-Y VALIUM 55 – Lagoon 55 – Athenian Yachts
M-C PEARLY GATES – Lagoon 63 power – Vernicos Yachts
S-Y MOONLIGHT -Lagoon – Vernicos Yachts
S-Y VERINA STAR – Lagoon – Vernicos Yachts
DAIQUIRI – Lagoon 65 – Istion Yachting
NOVA – Lagoon 620 – Istion Yachting
ALMA – FP Samana 59 – Istion Yachting
MOYA – Lagoon 560S2 – Istion Yachting
ALYSSA – Lagoon 560 – Istion Yachting
MELITI – Lagoon 560S2 – Istion Yachting
AZUL – Lagoon 55 – Istion Yachting
BABALU – Bali 5.4 – Istion Yachting
SUMMER STAR – Lagoon 52 – Istion Yachting
WORLD'S END – Galathea 65 – FYLY Exclusive Yachts
GREECE
SAILING YACHTS
ALIZEE – Hanse 675 – Istion Yachting
AIZU – Trehard Marine 99 – Istion Yachting
NADAMAS – Y8 – Istion Yachting
MONACO
MOTOR YACHTS
Brazil – Heesen 44m – MySea
Emoji – Sunseeker 34m – MySea
Lady Lona – Amer 26m – MySea
Lady Emma – Couach 34.1m – MySea
Songbird – Dubbel & Jesse 27.23m – MySea
Lady Volantis – Sunseeker 34.53m – MySea
Tao – Princess 20.73m – MySea
Ocean Pure 2 – Concorde 41m – MySea
Fleur – Sunseeker 35.2m – MySea
Ocean Six – Sanlorenzo 26.7m – MySea
NO.9 – Sunseeker40.05m – MySea
H&CO – Ferretti 30.1m – MySea
Vianne – Benetti 52m – MySea
Mrs D – Columbus 40m – MySea
Come Prima – Benetti 50m – MySea
MONACO
CREWED CATAMARAN
Signature Vision – Bali 5.4 – Signature Sailing
Signature Concept – Bali 5.4 – Signature Sailing
TURKEY
GULET
Karia – Custom – BodrumTour Yachting
Wicked Felina – Custom – BodrumTour Yachting
Bodrum Queen – Custom – BodrumTour Yachting
Symrna – Custom – BodrumTour Yachting
Artemis simay – Custom – BodrumTour Yachting
Neptun – Custom – BodrumTour Yachting
Remo – Custom – BodrumTour Yachting
Sumru Sultan – Custom – Sanda Yachting
Turquoise Seas – Custom – Sanda Yachting
Blue Life – Custom – Sanda Yachting
Sanda – Custom – Sanda Yachting
Urania – Custom – Sanda Yachting
Pronto Blue – Custom – Gulet Pronto Blue & White
Pronto White – Custom – Gulet Pronto Blue & White
Queen of Sea – Custom – BMY8 Yachting
Boreas – Custom – Barbaros Yachting
Babylon – Custom – Barbaros Yachting
Noxx – Custom – Barbaros Yachting
Admiral – Custom – Barbaros Yachting
Murvet Hanim – Custom – Barbaros Yachting
TURKEY
MOTOR YACHT

Sanref – Falcon 115 – Barbaros Yachting
INFINITY – Sunseeker 30 m – Stream Yachts
TURKEY
SAILING YACHT
Aybalam – Jeanneau 53 – BodrumTour Yachting