One Trade Show for all Central Agents & Brokers
Crewed Yachts and Private Charters
The exclusive yacht charter B2B trade show ICE is reaching new records in this year's edition, where hundreds of prestigious crewed yachts from all over the world will be represented. Zagreb will become the united place of the elite yacht charter industry, valued at 8 billion euros.
Whether you are a Broker wishing to expand your offers to your clients or a Central Agent wishing to grow your business network and present your crewed yachts – the Crewed and Luxury area is dedicated to meetings with all businesses in this just for you.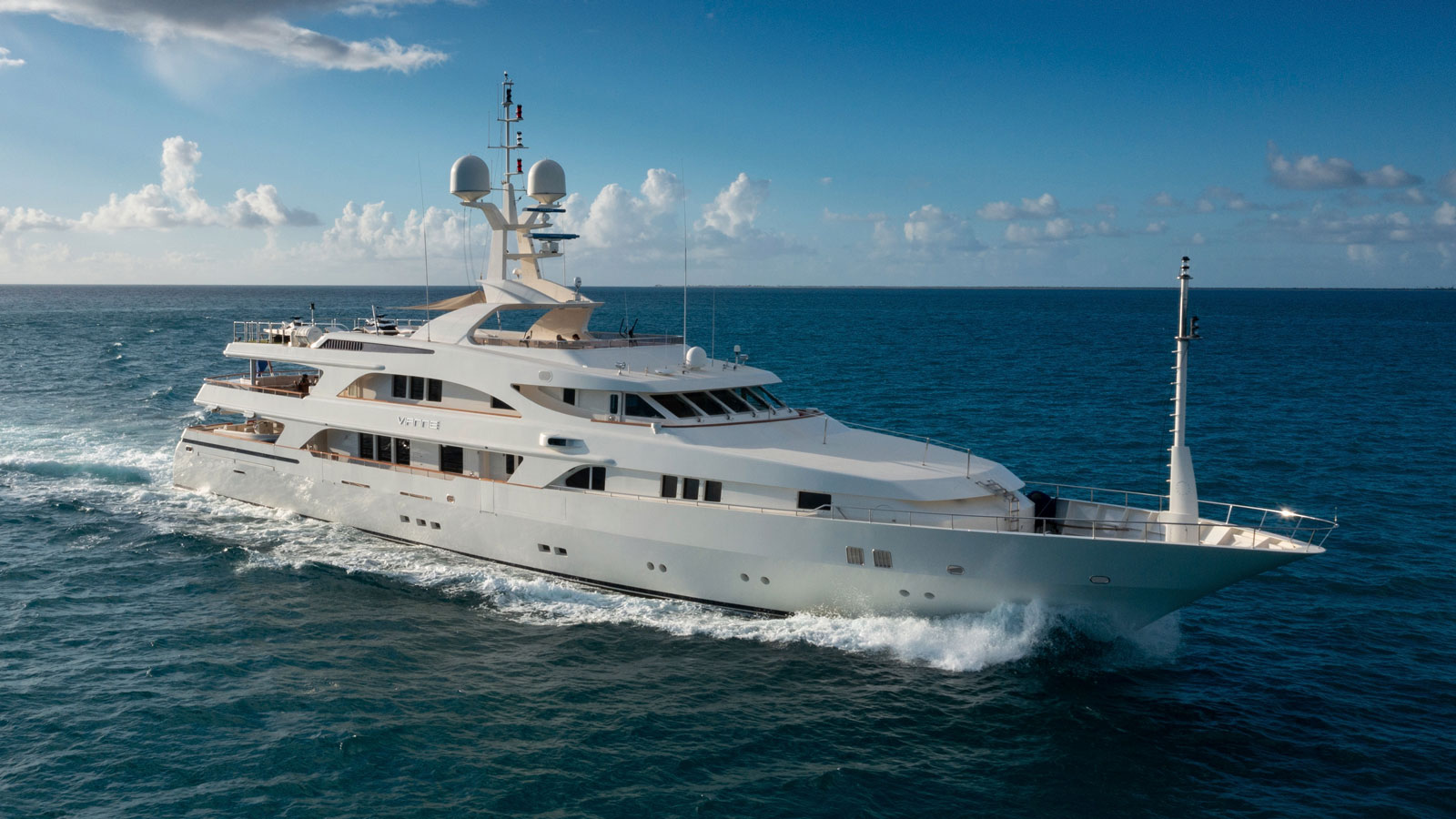 This year 800 prestigious yacht models worth over 1 trillion euros in seasonal rentals will be represented to 200+ brokers.
Meetings are scheduled in advance through proprietary matchmaking software, which increases meeting efficiency. 
Meet Crewed & Luxury companies
Central Agents of crewed motor yachts, sailing yachts, gulets, catamarans and mini cruisers and whose yachts fit the parameters below, exhibit in the exclusive Crewed and Luxury area.
• Yacht size: more than 15 m  
• Charter week price: more than 20,000 € 
• Crewed Private Charters and Yachts
List of 200+ crewed yachts represented by Central Agents and owners at ICE'22 can be found below.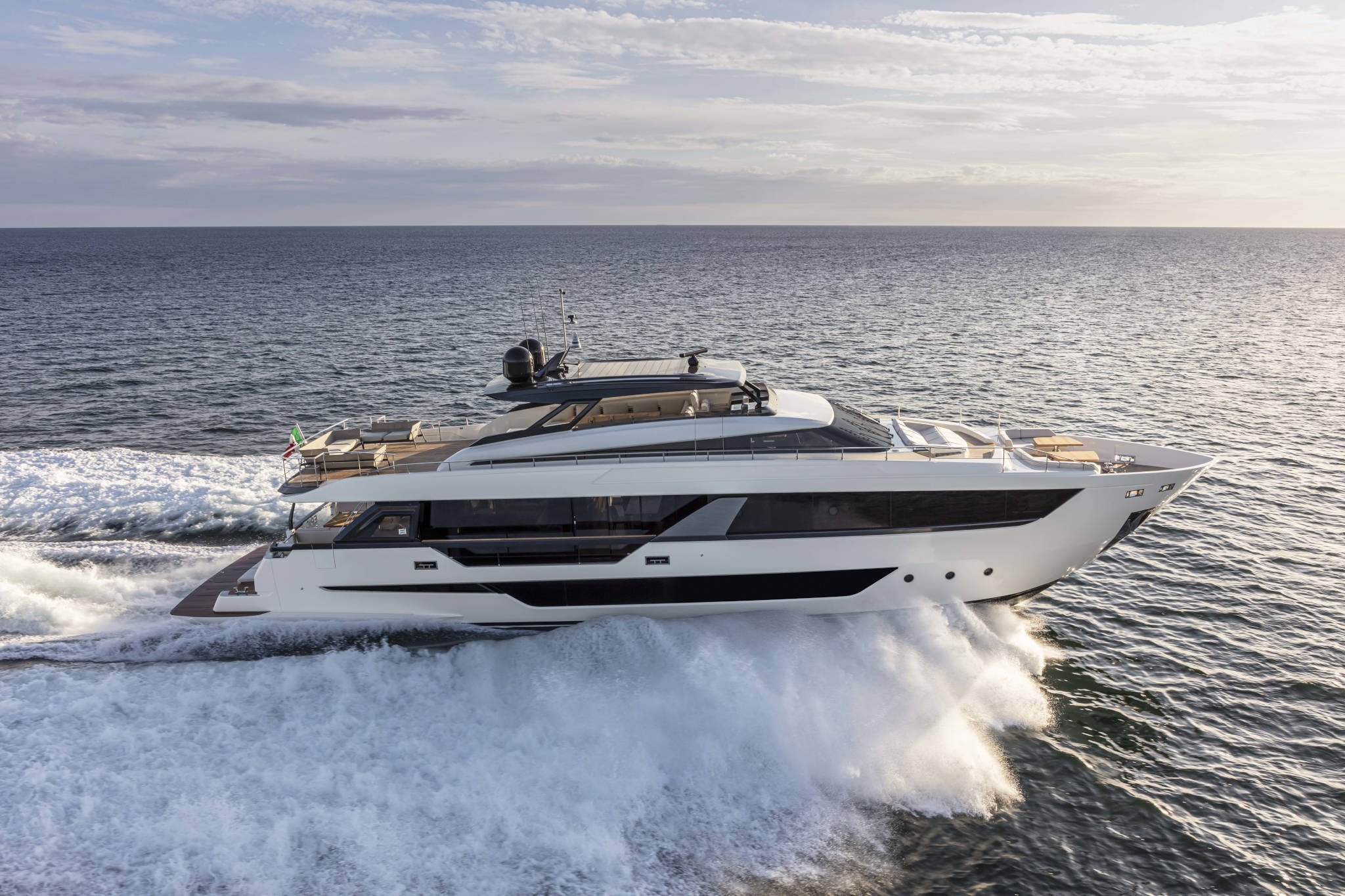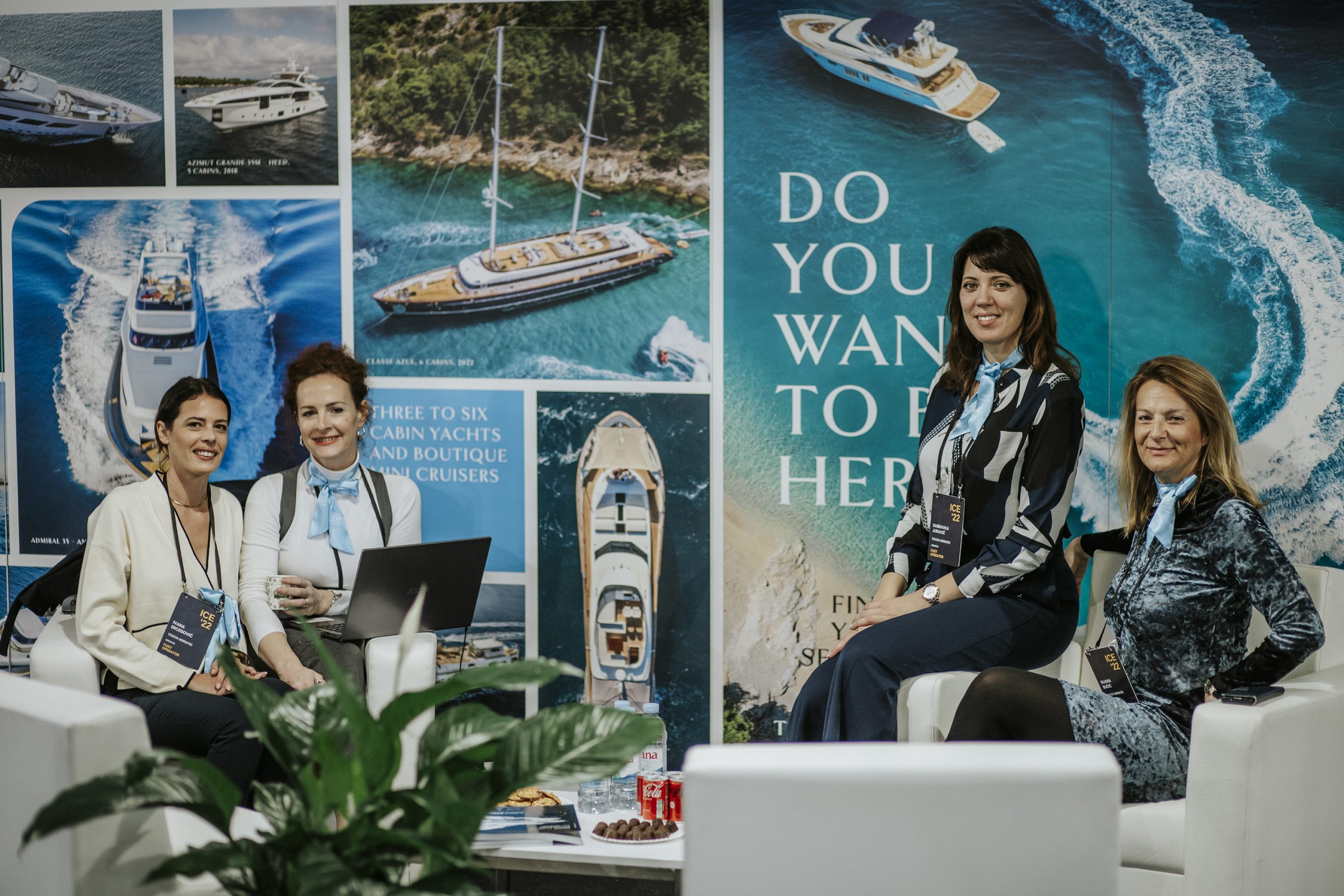 ICE is not just another boat show, but a must-attend trade show for the yacht charter industry.
• Meet 200+ International Brokers & Agencies
• More than 50+ Central Agents

• Matchmaking Software

• Present investment programs to investors at Investors Lounge
List of yachts operated by Central Agents at ICE'23


CROATIA 
MOTOR YACHTS 
YOLO – Custom (49m) – YOLO
FREEDOM – Custom (48m) – Goolets
BELLA – Custom (48m) – Goolets
OHANA – Custom (48m) – Goolets
CRISTAL – Custom (49m) – Goolets
KARIZMA – Custom (48m) – Goolets
RIVA – Custom (48m) – Goolets
ALFA MARIO – Custom (52m) – Goolets
BELEZZA – Custom (52m) – Goolets
QUEEN ELEGANZA – 49m – Goolets
NO.9 – Sunseeker (40m) – MYSEA
BRAZIL – Heesen (40m) – MYSEA
LADY VOLANTIS – Sunseeker (35m) – MYSEA
LADY LONA – Amer (26m) – MYSEA
M/Y SIMULL – Prestige 630 (21m) – Plan Your Journey
ARGO – ICY (55m) – Touch Adriatic
ANAVI – Admiral  (36m) – Touch Adriatic
HEED – Azimut Grande (35m) – Touch Adriatic
ACCEPTUS – Ferreti Custom Line 112 (34m) – Touch Adriatic
APNA – Saba Yacht (34m) – Touch Adriatic
CASSIOPEIA – Sunseeker (34m) – Touch Adriatic
SEVENTH SENSE – Ferretti Custom Line Navetta (33m) – Touch Adriatic
BABY I – Sunseeker Yacht 105 (32m) – Touch Adriatic
IVA – Ferretti 960 (30m) – Touch Adriatic
OCEAN DRIVE – Benetti Delfino (29m) – Touch Adriatic
GRACE – Aegean Yachts (28m) – Touch Adriatic
MISS KATARIINA – Ferretti 880 (27m) – Touch Adriatic
DAWO – Azimut Grande (27m) – Touch Adriatic
THE BEST WAY – Sunseeker Yacht 86 (27m) – Touch Adriatic
KARISMA – Canados 86 (26m) – Touch Adriatic
RIVA 85 M/Y 888 –  Riva 85 (26m) – Touch Adriatic
INSIEME – Princess 85 Fly (26m) – Touch Adriatic
AGAVE – Princess V85 (26m) – Touch Adriatic
SECUNDUS – Sanlorenzo SL78 (25m) – Touch Adriatic
OMR GROUP – Azimut 78 Fly (24m) – Touch Adriatic
SCHATZI – Fairline Squadron 78 (24m) – Touch Adriatic
PREWI – Azimut 78 (24m) – Touch Adriatic
QUO VADIS I – Ferretti 760 (23m) – Touch Adriatic
GLORIOUS – Sunseeker Predator 72 (22m) – Touch Adriatic
HOPE I – Maiora 20S (21m) – Touch Adriatic
2 DRUNK – Sunseeker Manhattan 63 (21m) – Touch Adriatic
MUDITA – Azimut S7 (21m) – Touch Adriatic
PANTA REI – Monachus 70 Fly (21m) – Touch Adriatic
SPICE OF LIFE II – Princess V65 (20m) – Touch Adriatic
SASSY – Princess 62 (19m) – Touch Adriatic
Bella Zio – Galeon 640 Fly (21m) – Split Yacht Charter Motor Yachts
Maris – Alena 56 (18m) –  Split Yacht Charter Motor Yachts

MY VAPOR – Custom (33m) – Vapor Cruising
Gallant – Custom (31m) – Master Charter 
Olimp – Custom (49m) – Master Charter
Azimut 78 Fly – 23m – Feel Yachting
AZIMUT S 7 – 21m – Feel Yachting
Azimut 72 – 23m – Feel Yachting
AZIMUT MAGELLANO 66 – 20m – Feel Yachting
PRESTIGE 590 FLY – 19m – Feel Yachting
S/Y Marallure – 42 m – Feel Yachting
Custom Blanka – 22m – Feel Yachting
Sunseeker Predator50  – 16m – Feel Yachting
M/Y QUANTUM – Sunseeker (33m) – Yacht IN
M/Y FRIEND'S BOAT – Ferretti (26m) – Yacht IN
M/Y TOBEKA – Cantiere Arno (24m) – Yacht IN
M/Y ELIZABETH – Princess (23m) – Yacht IN
M/Y BAZINGA – Prestige (21m) – Yacht IN
M/Y DOMINIQUE – Feretti (21m) – Yacht IN
M/Y BORA BORA – Admiral 27 (27m) – Magnum Yacht Charter
HAPPY 3 – Yarretti 2210 (22m) – Magnum Yacht Charter
ANNA WO – Princess 58 (17m) – Magnum Yacht Charter
M/Y SEA LADY – Dalla Pieta 80 (26 m) – Magnum Yacht Charter

Paloma I – Edership 44 (14m) – Yacht Charter Paloma I Pula
MS Phoenix 72– 52m – Unforgettable Croatia
MV Memories – 53m – Unforgettable Croatia
MV Bellissima – 53m – Unforgettable Croatia
MS My Wish – 50m – Unforgettable Croatia
MS Adris – 50m – Unforgettable Croatia
CROATIA
GULETS
ANDI STAR – Custom (26m) – Goolets
CROATIA – 32m – Goolets
VIVERE – Custom (26m) – Goolets
SMART SPIRIT – Custom (26m) – Goolets
NOSTRA VITA – Custom (33m) – Goolets
S/Y Sea Breeze – Custom (28m) – Plan Your Journey
Gulet Sirena – Custom (28m) – Gulet Broker Yachting
Gulet Linda – Custom (32m) – Gulet Linda
Romanca – 28.4m – Master Charter
Morning Star – 27m – Master Charter
Altair – 24.5m – Master Charter
Allure – 28.7m – Master Charter
Fortuna – 33m – Master Charter
MY Casablanca – Custom (56m) – Barbara Cruising Croatia
MY Barbara – Custom (41m) – Barbara Cruising Croatia
Gulet Dona – Custom (25m) – Orvas Yachting
Gulet Sole – Custom (24m) – Orvas Yachting
Gulet Queen of Adriatic – Custom (27m) – Orvas Yachting
Gulet Atalanta – 28m – Denebola



CROATIA


MOTOR SAILORS
SANTA CLARA – Custom (28m) – Goolets
SY Maxita – Custom (37m) – Goolets
Cataleya – Custom (35m) – Master Charter
Dalmatino – 43.53m – Master Charter
Nocturno – 48.2m – Master Charter
Anima Maris – 49m – Master Charter
Rara Avis – 33m – Master Charter
Love Story – 44m – Master Charter
M/S ANETTA – Custom (40m) – Yacht IN
CROATIA
SAILING YACHT
QUEEN AXIERA – Oceanis 58 – LUXURY SAILING
ELINE – X-Yachts 65 – MySEA



CROATIA


CREWED CATAMARANS
NEW 2024 – Aura 51 – LUXURY SAILING
NEW 2024 – Wave 60 – LUXURY SAILING
Wave – Wave 50 – LUXURY SAILING
PRINCESS APHRODITE – Saba 50 – LUXURY SAILING
ROYAL CRACOW – Saba 50 – LUXURY SAILING
LAMELA – Saba 50 – LUXURY SAILING
JOANSEA – Lagoon 46 – LUXURY SAILING
PEPE – Lagoon 46 – LUXURY SAILING
AMADA MIA – Lagoon Sixty 5 (21m) – Touch Adriatic
Grey Goose – Lagoon 450F (14m) – Catamaran Sailing
Discovery – Lagoon 52F (16m) – Catamaran Sailing 
SINATA – Sunreef 60 – Sinata Yachts
MR.Si – Sunreef 60 – Sinata Yachts
DIAMOND Si – Prestige M48 – Sinata Yachts
ITALY


MOTOR YACHTS
Sunseeker 60S – Magic Sun – Shamandura Charter
M/Y CIKILA – Leopard 23 (23m) – Flying Charter
M/Y DP MONITOR – Benetti (30m) – Flying Charter
M/Y NAFISA – Cantieri lavagna (33m) – Flying Charter
M/Y PENELOPE – Ferretti (33m) – Flying Charter
M/Y PRIME – Posillipo – Rizzardi shipyard (28m) – Flying Charter
M/Y RESILIENCE – Spertini Alalunga (25m) – Flying Charter
M/Y RIVIERA – Alalunga 78 (24m) – Flying Charter
M/Y SANDI IV – Cantieri di Pisa (25m) – Flying Charter
M/Y Shangra – Riviera Yachts (27m) – Flying Charter
M/Y FOREVER ROSANNA – Azimut 24 (24 m)- Flying Charter
ASKIM 3 – Fairline Squadron 73 (22m) – Magnum Yacht Charter
LUDI – Cerri 86 (27m) – Magnum Yacht Charter
DUBAI – Maiora 24 S (24m) – Magnum Yacht Charter
MEDITERRANEA – Itama 62 RS (20m) – Magnum Yacht Charter
MY LIFE FIVE II – Rizzardi Yachts 90 (28m) – Magnum Yacht Charter
SAINTS – Pershing 62 (20m) – Magnum Yacht Charter
BOBY – Mangusta 80 (25m) – Magnum Yacht Charter
LADY B – De Birs 85 (26m) – Magnum Yacht Charter
SEA SONS – Ferretti 700 – Magnum Yacht Charter
ITALY


CREWED CATAMARANS
Kingfisher – Lagoon Sixty 5 – Shamandura Charter
Drago – Lagoon 630 – Shamandura Charter
Lady Rachel – Lagoon 620 – Shamandura Charter
Essence Soleanis II – Lagoon 620 – Shamandura Charter
Vida Boa II – Ipanema 58 – Shamandura Charter
Summertime – Lagoon 52F – Shamandura Charter
Ohana – Lagoon 50 – Shamandura Charter
Soleanis II – Lagoon 620 (19m) – SOLEANIS LUXURY CHARTER
Samoa – Lagoon 52F (16m) – Magic Sailing Charter
Thor – Lagoon 50 (15m) – Magic Sailing Charter
WEST MEDITERRANEAN
MOTOR YACHTS 
VIANNE – Benetti (52m) – MYSEA
ADVA – Mayla (13m) – MYSEA
FLEUR – Sunseeker (35m) – MYSEA
LADY EMMA – Couach (34m) – MYSEA
TENACITY – Sunseeker (34m) – MYSEA
H&CO – Ferretti (30m) – MYSEA
OCEAN SIX – Sanlorenzo (37m) – MYSEA
Come Prima – Benetti 50m – MYSEA
NEXT – Columbus (40m) – MYSEA
M/Y ALALYA – ISA (47m) – Yacht IN
Mavi Mar – Prestige 630 (19m) – 7 Waves Yachting

NORWAY
CREWED CATAMARANS
Lagoon 51 – 16m – Nordvaer
TURKEY


MOTOR YACHTS



SERENITY – Sunseeker (25m) – MYSEA
GREECE
MOTOR YACHTS
M/Y PRINCESS L – Maiora (34m) – Vernicos Yachts
M/Y ILLYA F – Falcon 92 (28m) – Vernicos Yachts
M/Y LA FENICE – Azimut 85F (27m) – Vernicos Yachts
M/Y EFMARIA – Falcon 86 (26m) – Vernicos Yachts
M/Y SUPER TOY – Azimut 86 (26m) – Vernicos Yachts
M/Y KENTAVROS II – Ferretti 80 (24m) – Vernicos Yachts
M/Y AQUAZOE – Pershing 62 (19m) – Vernicos Yachts
M/Y HASARD – Ferretti 72 (22m) – Vernicos Yachts
Baglietto 100 – 31m – Yaloou Services
Azimut 80 – 25m – Yaloou Services
Ferretti 72 – 22m – Yaloou Services
Princess V65 – 17m – Yaloou Services
Mangusta 72 – 22m – Yaloou Services
Fjord 38 Express – 11m – Yaloou Services
Tesoro T40 – 12m – Yaloou Services 
M/Y STAR LINK – Falcon 90 (28m) – FX Yachting
M/Y SALTY – ALALUNGA 78 (23m) – FX Yachting
M/Y TiAmo – AQUILA 54Y (17m) – FX Yachting

M/Y ZIA – Ortona Navi (50 m) – FX Yachting
M/Y FLAMENGA – Riviera Yachts – Athenian Yachts
M/Y CAN'T REMEMBER – Tecnomar 116' – Istion Yachting 
M/Y PROJECT STEEL – Bugari 112' – Istion Yachting 
M/Y SUMMER FUN – Admiral 101' – Istion Yachting 
M/Y WIDE LIBERTY – Torgem 92 – Istion Yachting 
M/Y ESTIA YI – Ferretti 880 – Istion Yachting 
M/Y WHATEVER –  Riva Domino 86 – Istion Yachting 
M/Y VISTA – Princess Y85 – Istion Yachting 
M/Y ALEGRIA – San Lorenzo 82 – Istion Yachting 
M/Y PAREAKI – Posillipo 80' – Istion Yachting 
M/Y NATASSA – Posillipo 80' – Istion Yachting 
M/Y FREEDOM – Alalunga 78' – Istion Yachting 
M/Y ESTIA ZEUS – Azimut 74 solar – Istion Yachting 
M/Y MEDUSA – Azimut 68' – Istion Yachting 
M/Y MARY – Ferretti 68' – Istion Yachting 
M/Y LADY L – Altamar 64' – Istion Yachting
CARTE BLANCHE – Ferretti 55 (17m) – L'O Yachting
DIAL II – Princess 62 (19m) – L'O Yachting
GRACE – Azimut 63 (19m) – L'O Yachting
DISTAR PRINCESS – Princess 65 (21m) – L'O Yachting
S BRILLIANT – Feretti 68 (21m) – L'O Yachting
ORION – Baia 63 (17m) – L'O Yachting
C&A – Uniesse 55 (17m) – Med Sail Group



GREECE


MOTOR SAILOR 
M/S MATINA – Custom (38m) – Vernicos Yachts
M/S ANEMOS – Custom (24m) – Vernicos Yachts
M/S Cosmos – Custom (24m) – Christianna Yachting
M/S MYRA – Custom (28m) – FX Yachting
GREECE


CREWED CATAMARANS
Explorion – Aquila 54 (16m) – Endless Blue Yacht Charters
Blue Horizon – Dufour 48 (15m) – Endless Blue Yacht Charters
My Blue Heaven – Dufour 48 (15m) – Endless Blue Yacht Charters
M/C PEARLY GATES – Lagoon 63 Power (20m) – Vernicos Yachts
S/Y MOONLIGHT – Moon Yacht (18m) – Vernicos Yachts
S/Y FOR SAIL (ex ALYSSA) – Lagoon 560 (17m) – Vernicos Yachts
S/Y HYDRUS – Lagoon 55 (17m) – Vernicos Yachts
S/Y VERINA STAR – Lagoon 55 (17m) – Vernicos Yachts
S/Y ROYAL FLUSH – Lagoon 52 (16m) – Vernicos Yachts
S/Y JEWEL – Lagoon 51 (16m) – Vernicos Yachts
S/Y EFKRATI – Lagoon 51 (16m) – Vernicos Yachts
S/Y QUEEN OF DIAMONDS – Lagoon 52 (16m) – Vernicos Yachts
M/C SAMARA – Power Cat by Pachoud (24m) – FX Yachting
S/Y AD ASTRA – Fountaine Pajot 80 (24m) – FX Yachting
S/Y ALOIA 80 – Fountaine Pajot 80 (24m) – FX Yachting
M/Y JUST MARIE 2 – LAGOON Seventy8 (24m) – FX Yachting
M/Y CRAZY HORSE – LAGOON Seventy8 (24m) – FX Yachting
S/Y GENNY – SUNREEF 80 (24m) – FX Yachting
S/Y ABOVE & BEYOND – SUNREEF 80 (24m) – FX Yachting
S/Y GRAYONE – SUNREEF 80 (24m) – FX Yachting
S/Y SAMELI – Balance/Two Oceans Marine (23m) – FX Yachting
M/Y ALTEYA – SUNREEF 70 (21m) – FX Yachting
S/Y AGATA BLU – SUNREEF 70 (21m) – FX Yachting
M/Y ChristAl MiO – Fountaine Pajot Power 67 (20m) – FX Yachting
M/Y ALENA – Fountaine Pajot Power 67 (20m) – FX Yachting
M/Y ELLY – Fountaine Pajot Power 67 (20m) – FX Yachting
S/Y ALEXANDRA II – Fountaine Pajot Alegria 67 (20m) – FX Yachting
S/Y PIXIE – Fountaine Pajot Alegria 67 (20m) – FX Yachting
S/Y KIMATA – Fountaine Pajot Alegria 67 (20m) – FX Yachting
S/Y AETHER – Fountaine Pajot Alegria 67 (20m) – FX Yachting
S/Y SERENISSIMA – Fountaine Pajot Alegria 67 (20m) – FX Yachting
S/Y APHAEA – Fountaine Pajot Alegria 67 (20m) – FX Yachting
S/Y DOLLY – Fountaine Pajot Alegria 67 (20m) – FX Yachting
S/Y CARPE DIEM – Lagoon 620 (19m) – FX Yachting
S/Y GRACE – Lagoon 620 (19m) – FX Yachting
SELENE – Lagoon 620  (19m) – FX Yachting
S/Y ASTORIA – Fountaine Pajot Samana 59 (19m) – FX Yachting
S/Y NAMASTE – Fountaine Pajot Samana 59 (19m) – FX Yachting
S/Y ALLURE – Fountaine Pajot Samana 59 (19m) – FX Yachting
S/Y HIGHJINKS – Fountaine Pajot Sanya 57 (18m) – FX Yachting
S/Y HIGH FIVE – Fountaine Pajot Sanya 57 (18m) – FX Yachting
S/Y LUCKY CLOVER  – Lagoon 52F (16m) – FX Yachting
S/Y NOMAD – Lagoon 52F (16m) – FX Yachting
S/Y FLO – Lagoon 52F (16m) – FX Yachting
S/Y MADININA – Lagoon 52F (16m) – FX Yachting
S/Y Amante – Fountaine Pajot Aura 51 (15m) – FX Yachting
S/Y Pi2 – Fountaine Pajot Saba 50 (15m) – FX Yachting
S/Y ADARA – Sunreef 50 (15m) – FX Yachting
S/Y Andare Avanti – Lagoon 50 (15m) – FX Yachting
S/Y NOMAD II – Lagoon 50 (15m) – FX Yachting
S/Y ANDIAMO – Lagoon 50 (15m) – FX Yachting
S/Y ALEGRIA – Fountaine Pajot Saona 47 (14m) – FX Yachting
ELVIRA– Sirocco Yachting
ALICE CATAMARAN – Sirocco Yachting
S/Y VALIUM 67 – Lagoon Sixty 7 – Athenian Yachts
S/Y WHITE CAPS – Lagoon Sixty 5 – Athenian Yachts
S/Y VALIUM 62 – Lagoon 620 – Athenian Yachts
S/Y VALIUM 55 – Lagoon 55 – Athenian Yachts
S/Y ESPERANCE – Lagoon 55 – Athenian Yachts
S/Y VALIUM 52 – Lagoon 52 – Athenian Yachts
S/Y ONEIDA – Lagoon 52 – Athenian Yachts
S/Y ONEIDA 2 – Lagoon 50 – Athenian Yachts
P/CAT D2 – Fountaine Pajot 67 – Istion Yachting 
S/CAT DAIQUIRI – Lagoon 65 – Istion Yachting 
S/CAT NOVA – Lagoon 620 – Istion Yachting 
S/CAT ALMA – FP Samana 59 – Istion Yachting 
S/CAT MOYA – Lagoon 560S2 – Istion Yachting 
S/CAT AURA – Lagoon 560S2 – Istion Yachting 
S/CAT MELITI – Lagoon 560S2 – Istion Yachting 
S/CAT AZUL – Lagoon 55 – Istion Yachting 
S/CAT BABALU – Catana Bali 5.4 – Istion Yachting 
S/CAT SUMMER STAR – Lagoon 52 – Istion Yachting 
S/CAT TAMIRO – Lagoon 52 – Istion Yachting 
S/CAT TWIN PRIDE – Lagoon 500 – Istion Yachting 
S/CAT ODYSSEY – Nautitech 46F – Istion Yachting
GREECE
SAILING YACHTS
S/Y SPIRIT L – CCYD 85' (26m) –  Vernicos Yachts
S/Y IZANAMI – BENETEAU FIRST 53 (17m) – FX Yachting
S/Y ON Y VA  – BENETEAU FIRST 53 (17m) – FX Yachting
S/Y IKIGAI – BENETEAU FIRST 53 (17m) – FX Yachting
MYTHOS – Sirocco Yachting
S/Y LIFE TIME – Jeanneau 64 – Athenian Yachts
S/Y Shooting Star – Gianetti Star 64 – Athenian Yachts
S/Y EUPHORIA – Jeanneau 60 – Athenian Yachts
S/Y AIZU – Trehard Marine 99 – Istion Yachting 
S/Y MELITI – Garcia 86 (one off) – Istion Yachting 
S/Y NADAMAS – Y8 – Istion Yachting 
S/Y HELENE – Opus 68 – Istion Yachting 
S/Y ALIZEE – Hanse 675 – Istion Yachting 
S/Y DRUNKEN SAILOR – Dufour G.Large 560 – Istion Yachting 
TURKEY
GULETS
Pronto Blue – Custom (26m) – Gulet Pronto
Pronto White – Custom (23m) – Gulet Pronto
Gulet Gok dudum – Custom (27m) – Gulet Broker Yachting
Gulet Salih Unlu – Custom (24m) – Gulet Broker Yachting
Simerenya – Custom (30m) – Sanda Yachting
Turquoise Seas – Custom (26m) – Sanda Yachting
Sumru Sultan – Custom (26m) – Sanda Yachting
Blue Life – Custom (26m) – Sanda Yachting
Sanda Life – Custom (25m) – Sanda Yachting
Sanda – Custom (25m) – Sanda Yachting
Cekin – Custom (18m) – Sanda Yachting
WEST MEDITERRANEAN
CREWED CATAMARANS
ENTRE 4 – SUNREEF 80 SAIL – Med Cat
MEDCAT – SUNREEF 55 POWER – Med Cat
AMURA – BALI 5.4 – Med Cat
MIM OCEAN 1 – BALI 5.4 – Med Cat
MIM OCEAN 2 – BALI 5.4 – Med Cat
MIM OCEAN 3 – BALI 5.4. – Med Cat
TWO OCEANS – BALI 5.4 – Med Cat
YEMAYA – BALI 4.8 – Med Cat
MARTINON – BALI 4.8 – Med Cat
NIA – BALI 4.6 – Med Cat
PLATINIUM – BALI 4.6 – Med Cat
KUKURUZ – BALI 4.6 – Med Cat
DISFRUTON – BALI 4.6 – Med Cat
OLIVIA – BALI 4.4 – Med Cat
KNOWKER – BALI 4.4 – Med Cat
SAID – BALI 4.4 – Med Cat
MANUELA – BALI 4.2 – Med Cat
DORTOKA – CATSMART – Med Cat