THE REALITY OF YACHT CHARTER IN TURKEY – TRUE & FALSE
Since the first year of the major tourism decline in Turkey, there was a discrepancy between what's really happening and the media version. My decision to sail Turkey this year was naturally met with skepticism from all sides. My intention was to have a nice sailing vacation with my wife but also to move the general opinion if only by a thread. In these 14 days, I will report my impressions as true as I can, without an agenda or bias.
---
Our journey was made possible with the courtesy of: 
Part 6
(Jun 23, 2017)
SAILING TURKEY – THE OVERVIEW
We are still going to spend two days in Marmaris as simple pedestrians but our sailing trip is over and a closing statement would be in order. June in Turkey is as much summer as anybody needs; the water is perfect, the days are hot but not unpleasantly so, the Meltemi is occasionally present but manageable. Nights are refreshingly cool. There are no crowds but it is far from deserted. I was afraid that there would be an air of desperation among the locals, due to the decimated tourism – there is none. Locals are aware of the situation, they mention it but nobody lingers on the subject. Life goes on and they try to make the best of it. There are fewer boats sailing, fewer gulets milling around and not as many day trips. I can't judge how hotels and restaurants are doing but the terraces are as big and as many as ever, even if they are mostly empty. It seems the proprietors are too proud to downsize. I wouldn't go ahead and label it optimism but it's close enough.
The cost of a sailing holiday in Turkey is more than acceptable. As I mentioned airfare is reasonable; we paid 300 EUR for our flight from Zagreb to Dalaman over Istanbul. We could have taken a direct flight from Graz or Vienna for as much as 230 EUR but I didn't want to drive. Provisioning is very cheap; the supermarkets are significantly cheaper than most European ones – I would estimate in an average of 15-20%.Important and amazing fact; the choice of organic, gluten-free, lactose-free and what-not free products is huge.
Marina fees are probably half price as Italy or Croatia; not that you need to go to marinas since almost every restaurant has a free jetty with moorings, water and electricity. Restaurants of course vary in quality and pricing but not much. In average you will pay 20 EUR per person for a very good lunch and about 25 EUR for a three-course dinner. A bottle of good red wine will go from 18 to 25 EUR. If you are taking it to your boat, you get the "market price" of about 10-15 EUR. There are some restaurants that are overpriced but they have their reasons and the pricing is always clearly visible.
Nature is amazing; the water, the bays, the landscape, it is a sailor's paradise.
---
Part 5
 (Jun 22, 2017)
CIFTLIK
We initially planned to visit Marmaris during our boat trip; it is on our one-way route. After careful deliberation, we decided to use the boat time for boat places and return to Marmaris for a two-day stay after check-out. Again, time appears scares on a sailing holiday.
So we sail from Ekincik along the bay of Marmaris and further west in the direction of Simi (Greek island just 5 miles offshore). We are 60 miles short of Orhaniye and with three days to go, the end appears close for the first time. The weather was quite windy the last few days and the sea was occasionally choppy but now we are looking forward to three calm days ahead.
Ciftlik is a wonderful sandy bay protected by a small island, with high cliffs soaring on all sides. The water is clear, clean and wonderfully turquoise. Basically, the bay consists of a hotel, a few private houses, and four restaurants. It is worlds away from My Marina; far on the economic end. A third of the beach is meant for the hotel guests and the rest is just sizzling sand. The sand is a dark variety and seems to have soaked up millennia of sunshine and now burning through feet with unbelievable intensity. I remind myself that at home we are looking forward to July as June is still not real summer.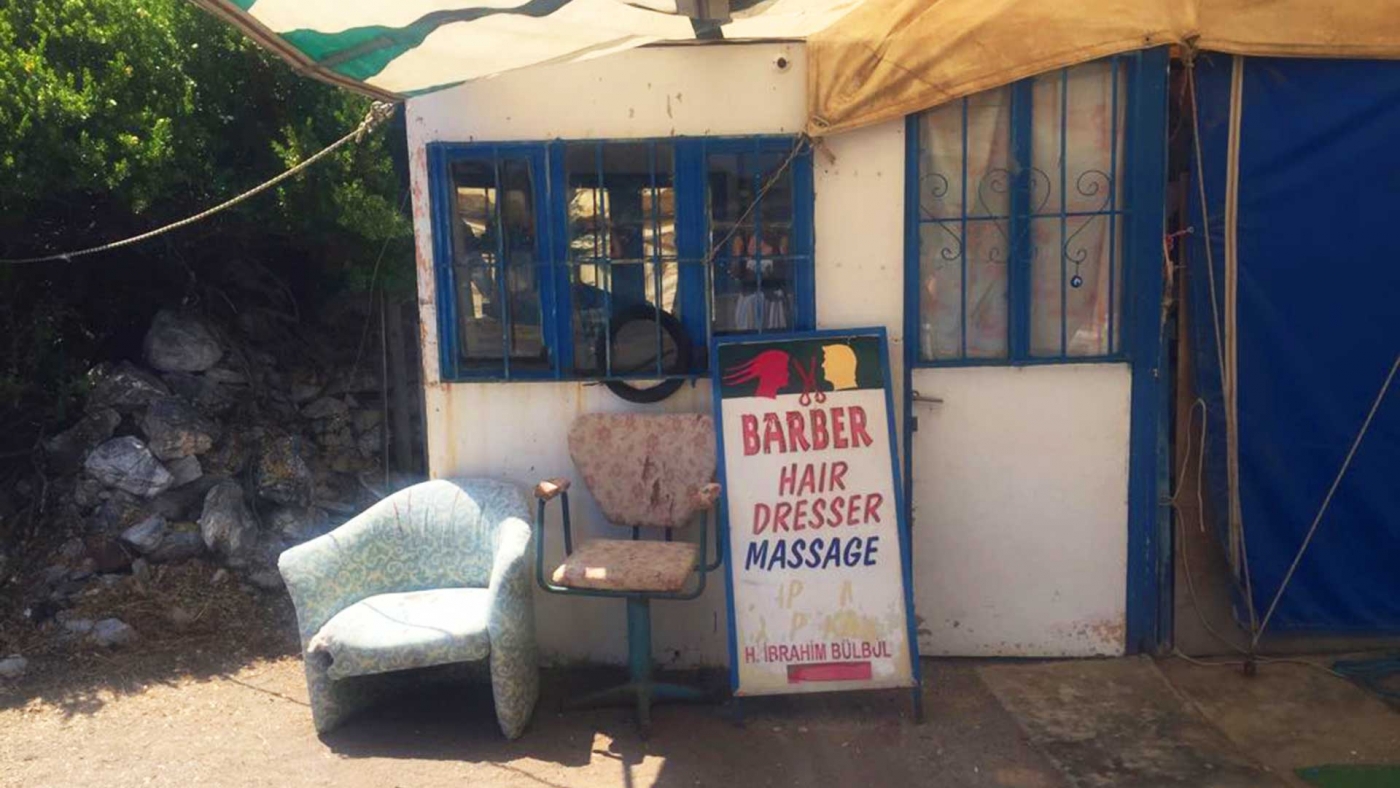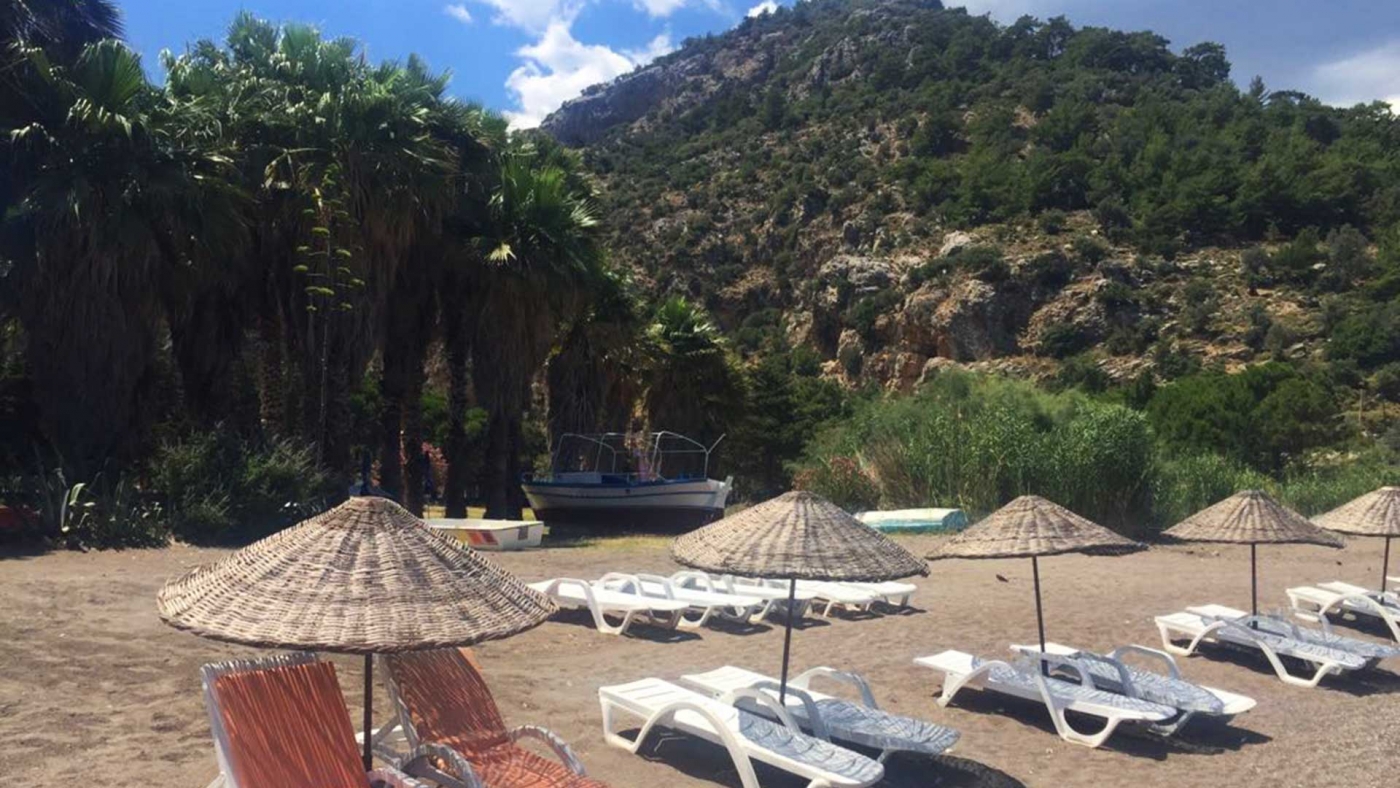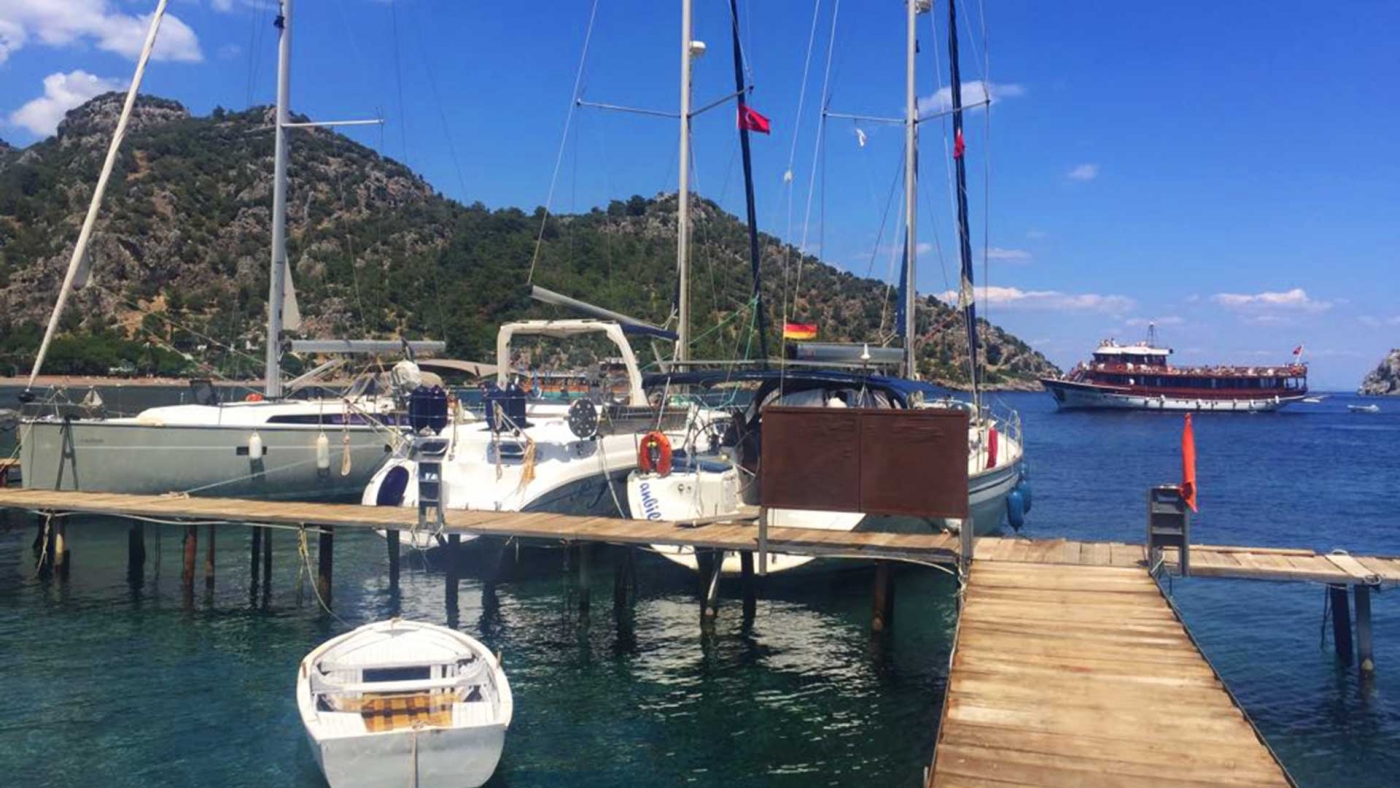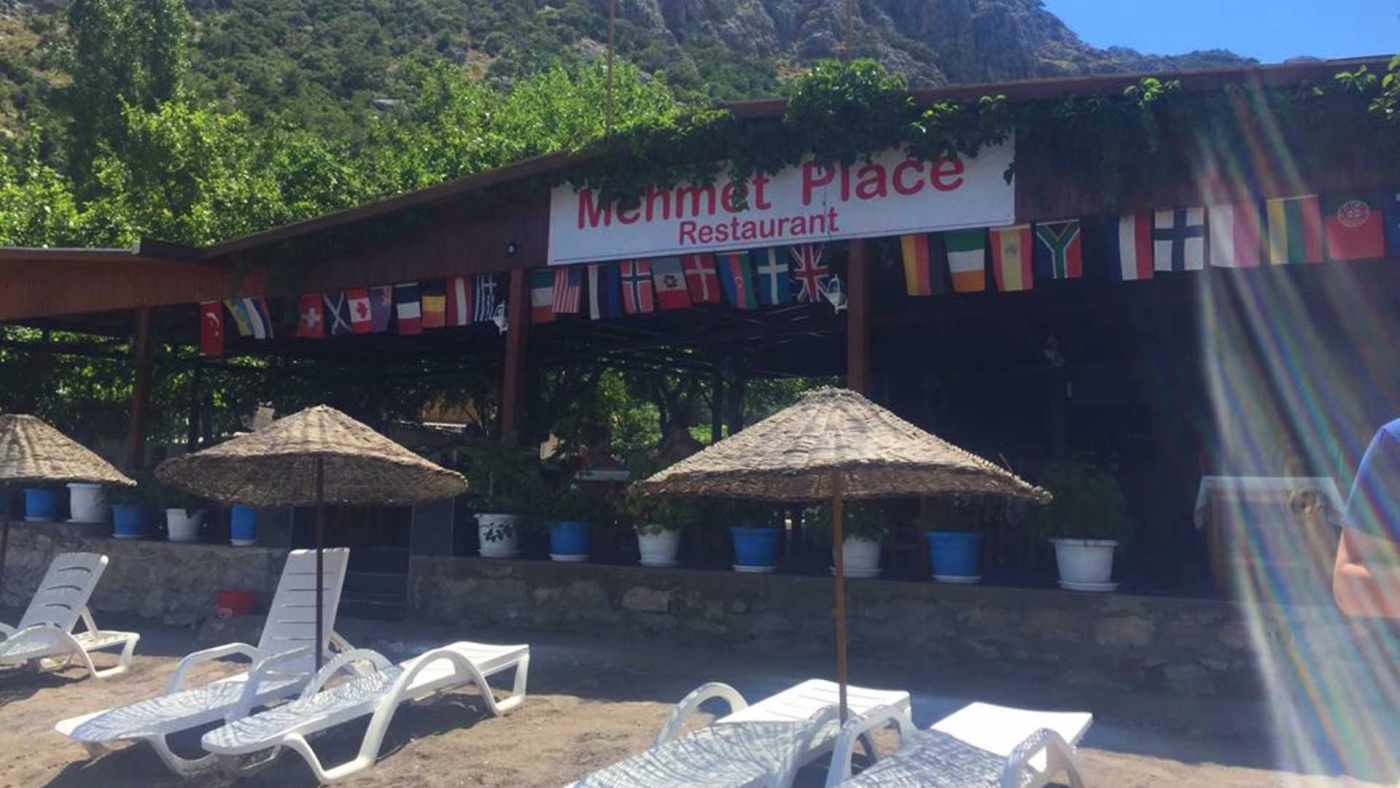 The four restaurants scattered on the beach differ in name, color, and furniture but also look very alike and seemingly share the same number of Michelin stars; they remind me of Yugoslavia. All four have shaky jetties and offer mooring, water and electricity free of charge for their guests.
After careful inspection of all four establishments, we set down in Mehmet's Place. We are now used to the hospitality and kindness of the hosts but still, it is something we really enjoy. Mehmet is no different; we just stopped for coffee but he offers us free mooring regardless. In the end, we have lunch and it is well prepared even if it is not the culinary masterpiece we enjoyed previously at My Marina. We return to our boat on anchor but run out of wine after sunset and decide to take Mehmet up on the mooring offer. After a while, we are lazy to cook and given the very affordable prices, we have dinner. Everything he brings to the table is fresh and delicious. I am delighted with the choice of really fresh wild fish. We finish the dinner and buy some wine for the boat. Yes; in Turkey the restaurants will sell you wine and water and stuff at supermarket price. That baffles me but I am thrilled; we restock our supplies right there in the restaurant.
In the morning the weather is good and we decide to do a longer sail, to get closer to Orhaniye and find a bay for the remaining two days. We sail to Dirsek.
DIRSEK BAY
If I have seen a more clear and turquoise bay I must try harder to recall. It is a rather large bay, well protected, with plenty of good anchoring options. We arrive early in the day and most of the bay is empty but a corner where a restaurant is lurking and a few boats are moored in front of it.
We anchor with shoreline and the water is amazing – almost invisible; the schools of fish appear to be levitating in mid air as they circle the boat. We have found the place where we wait for the end.  Of our charter.
As the day goes on a bit of the romance is lost with dozens of gulets anchoring around us but they keep their distance and seem to offer a sort of entertainment as you watch them anchor, lay out shorelines and starting barbecues with an impressive speed and efficiency. Some have soiled this bay temporarily with loud western music but those are quickly gone, probably day trips. Even with the new found neighbors bay life is a delight.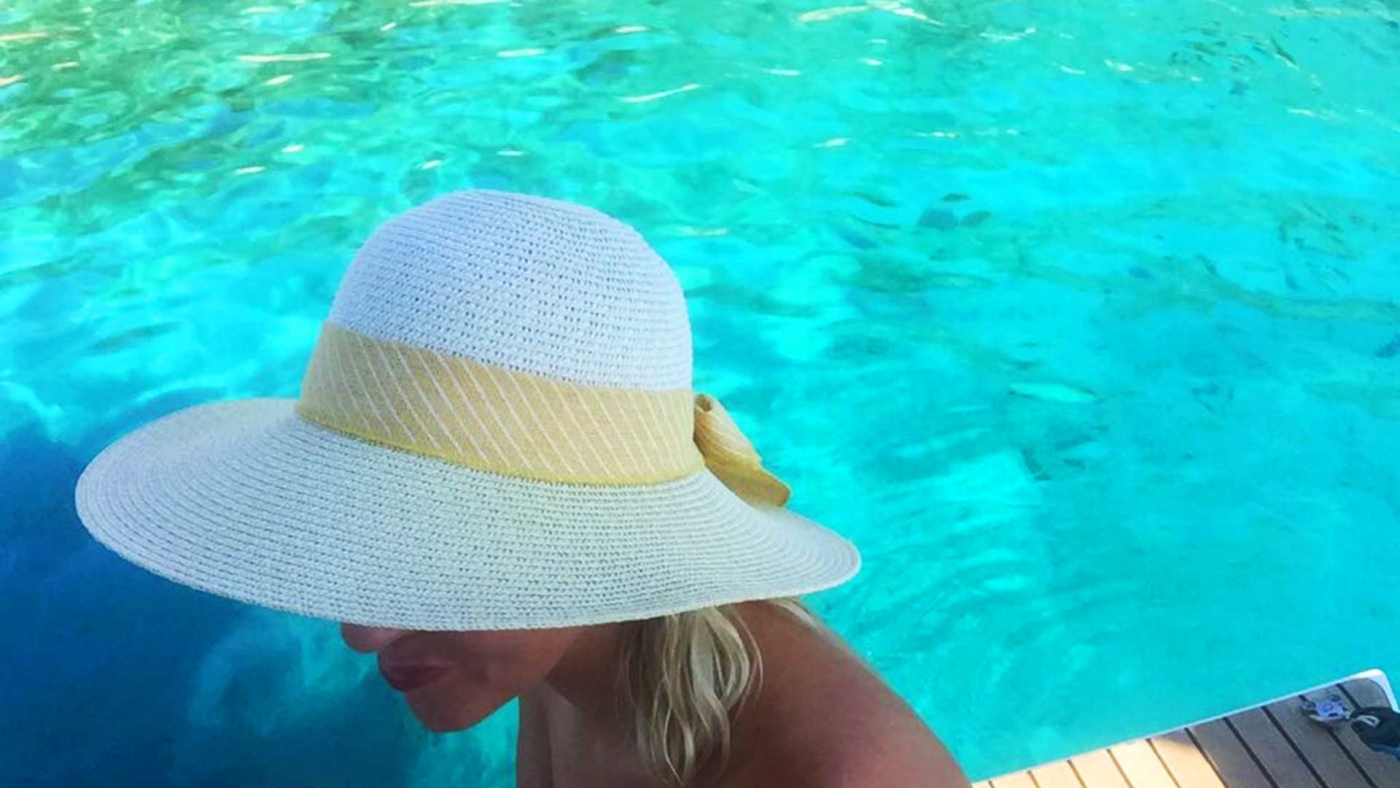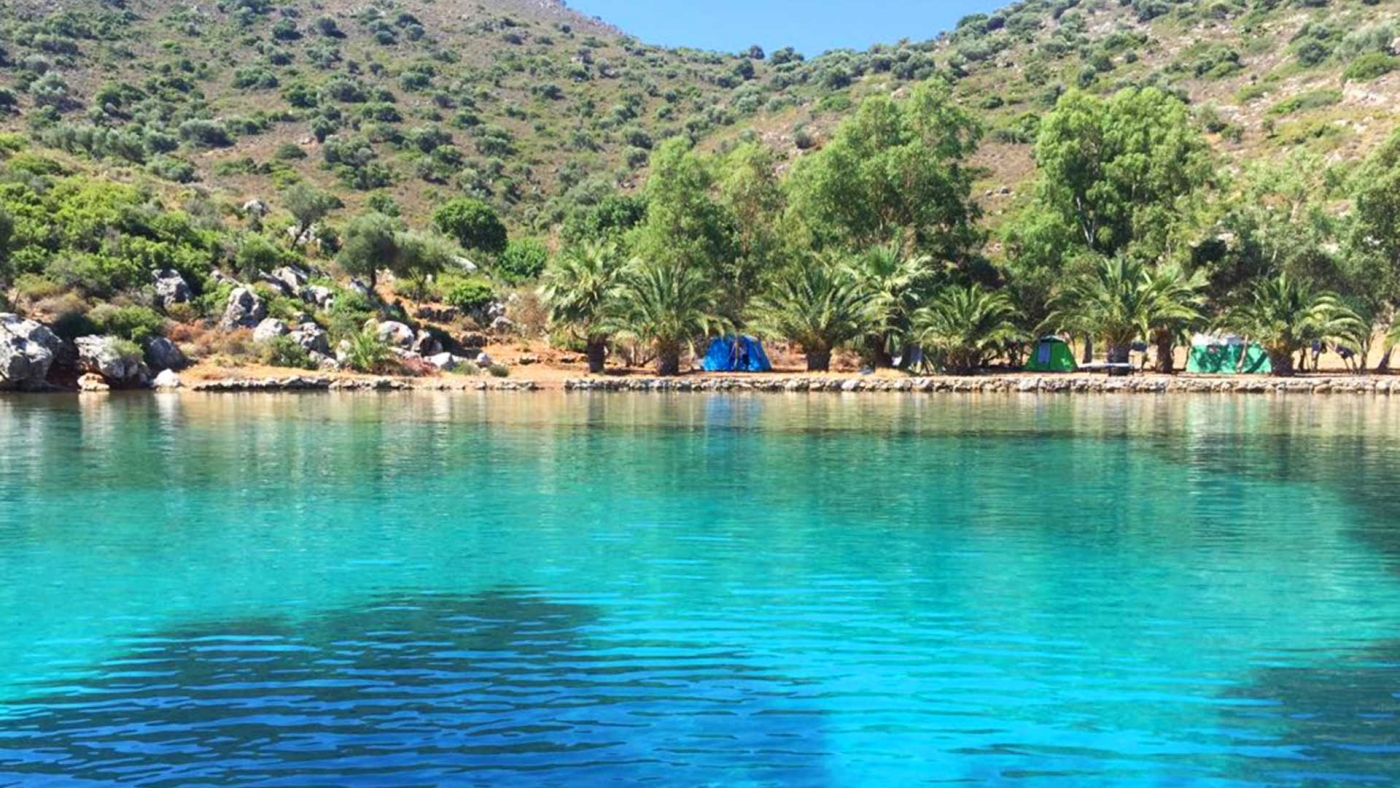 Dirsek1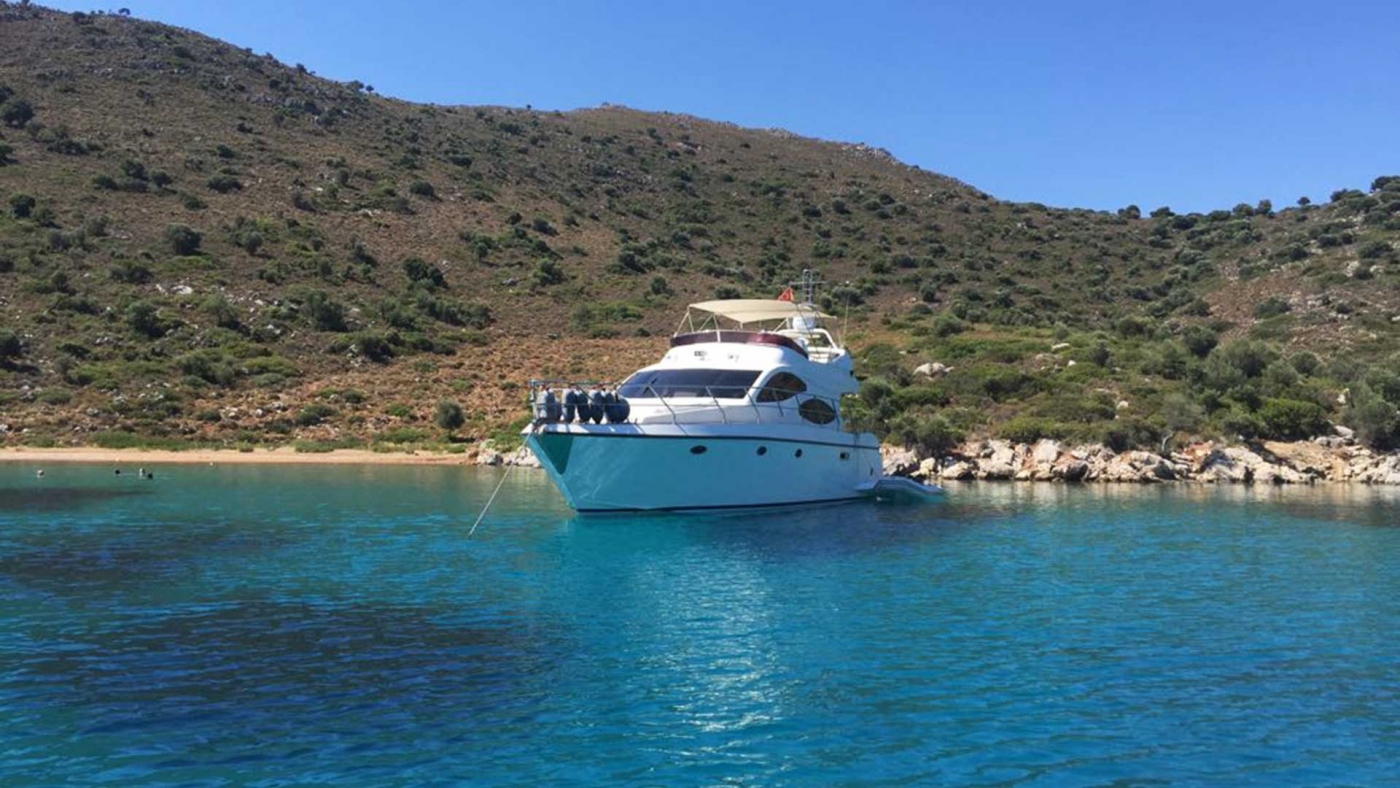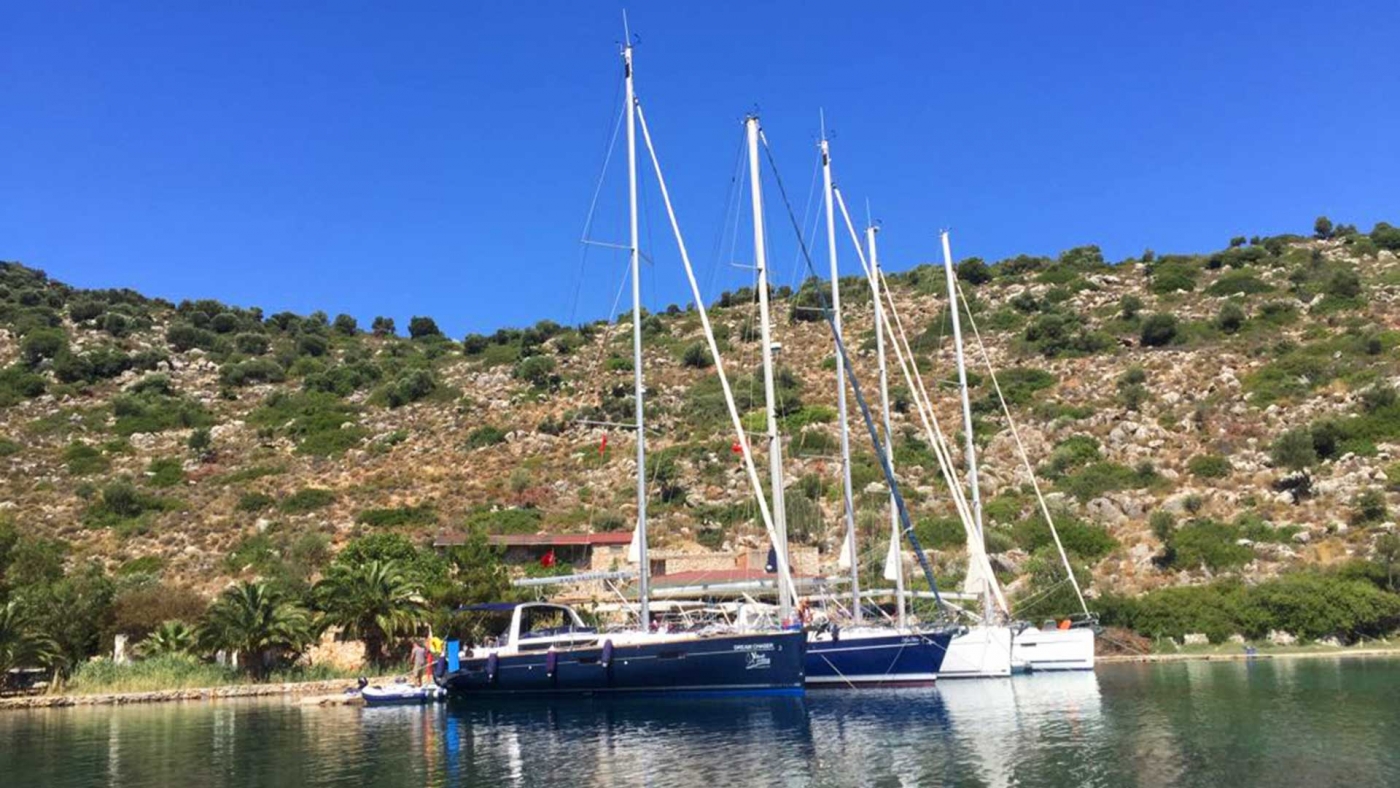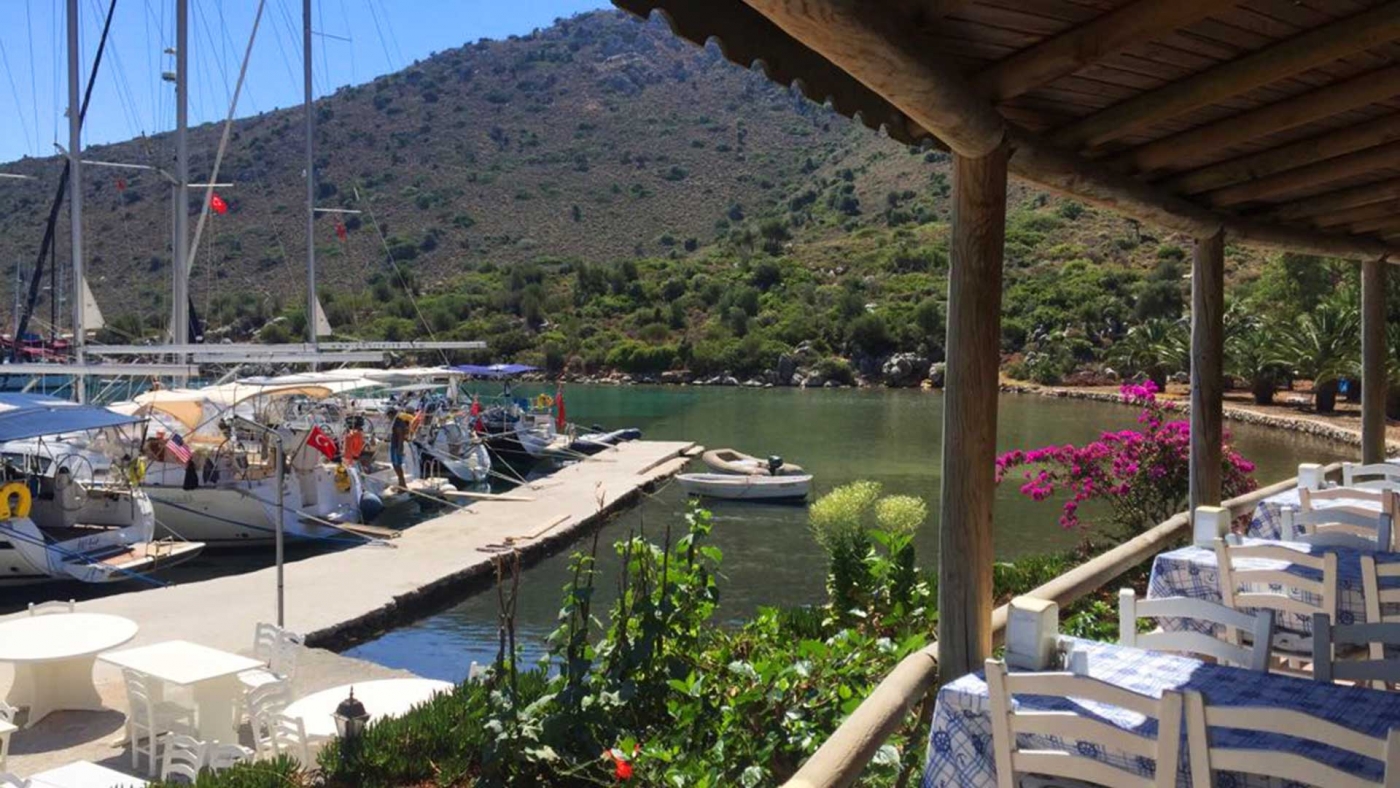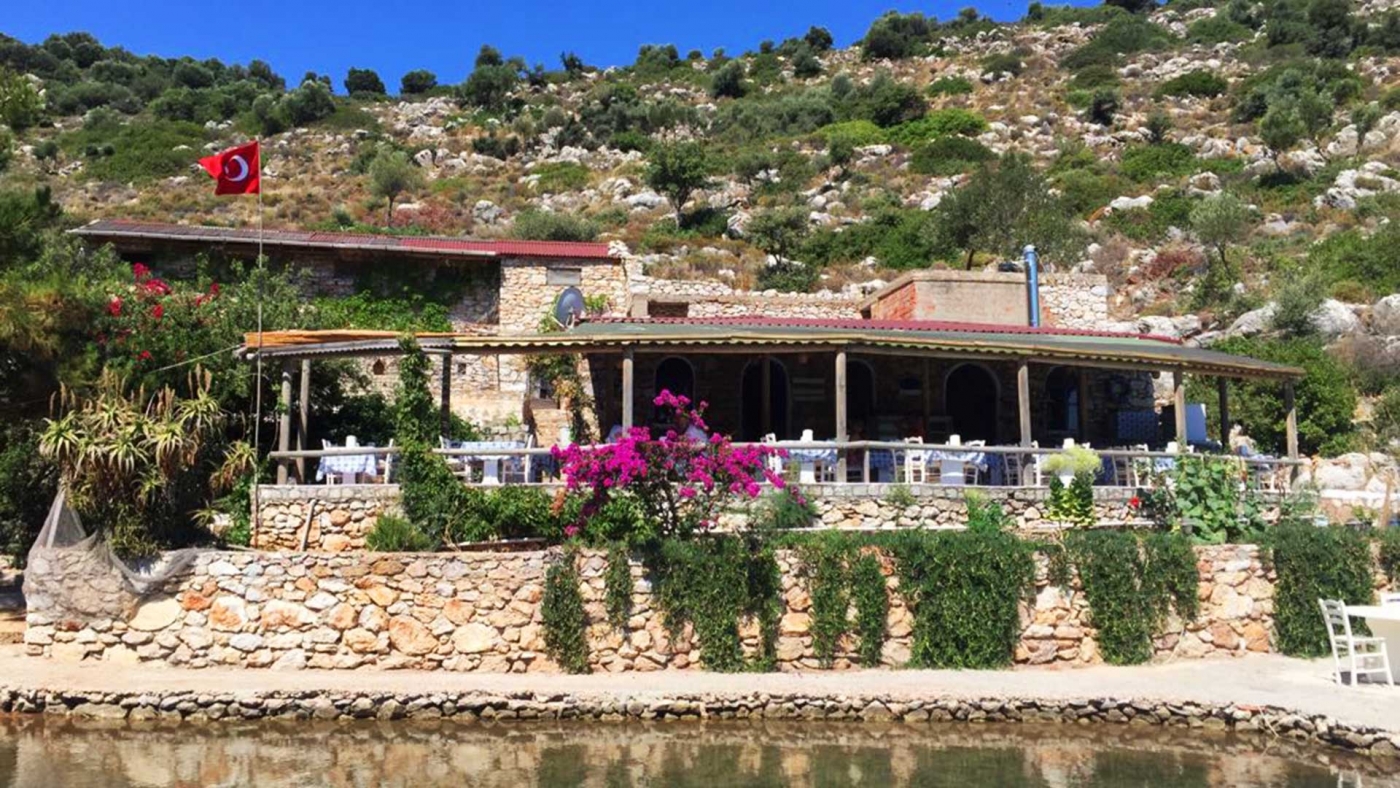 Dirsek4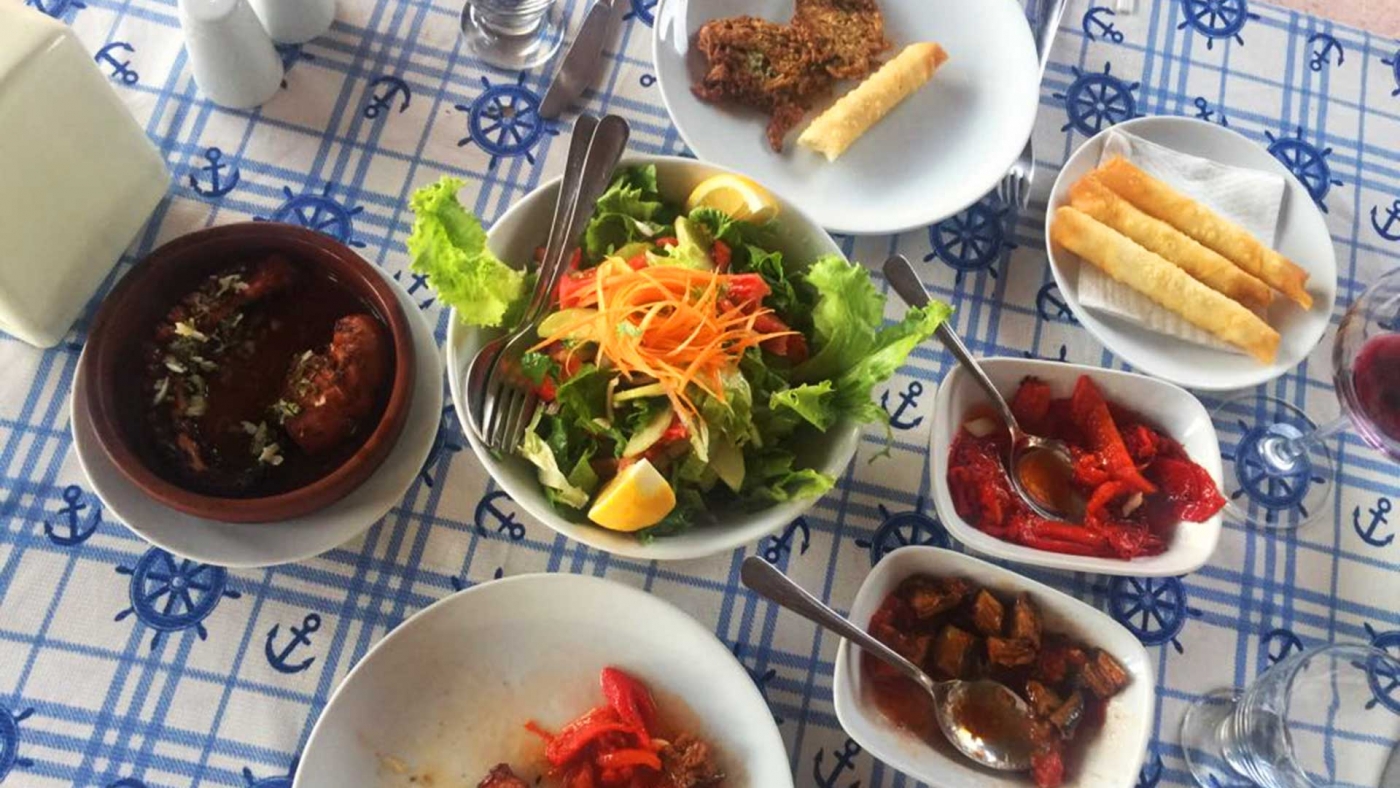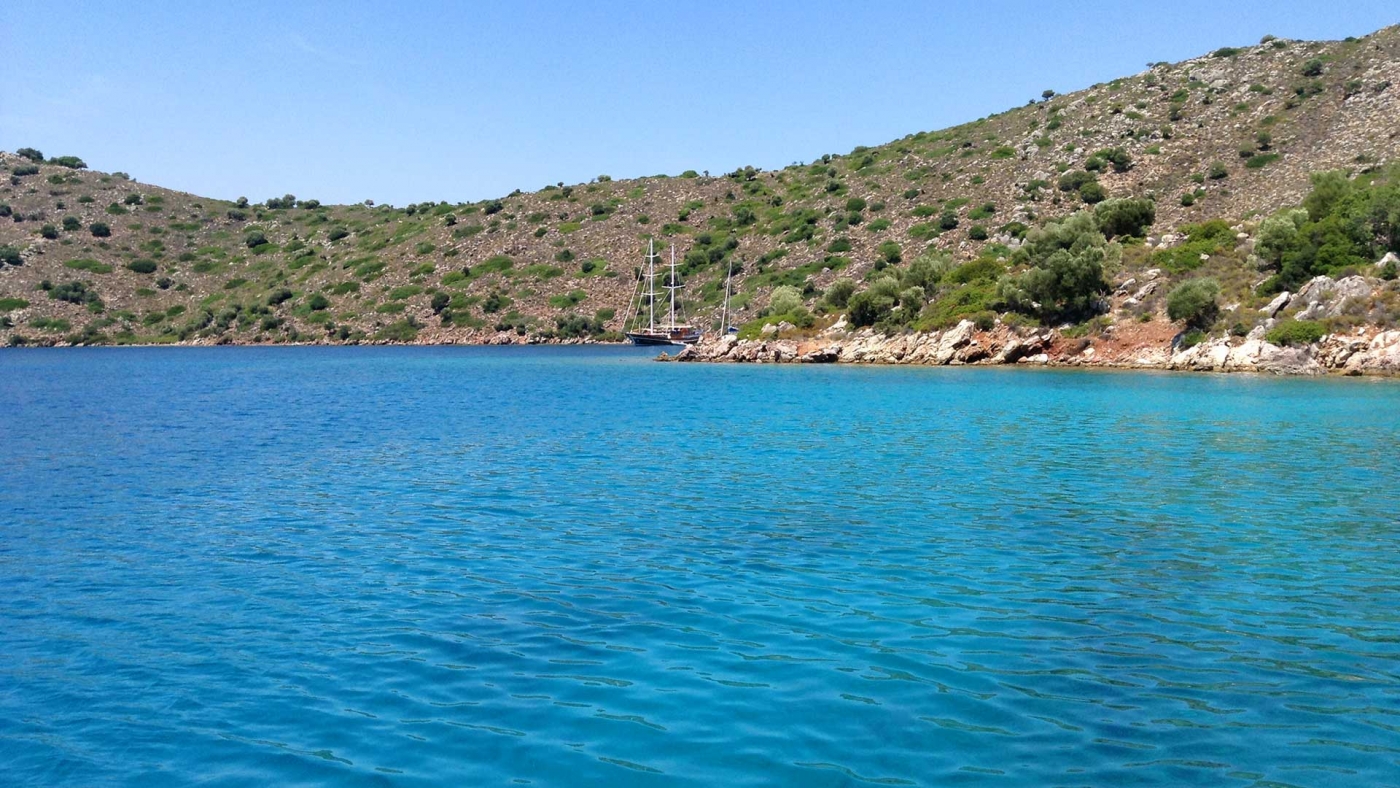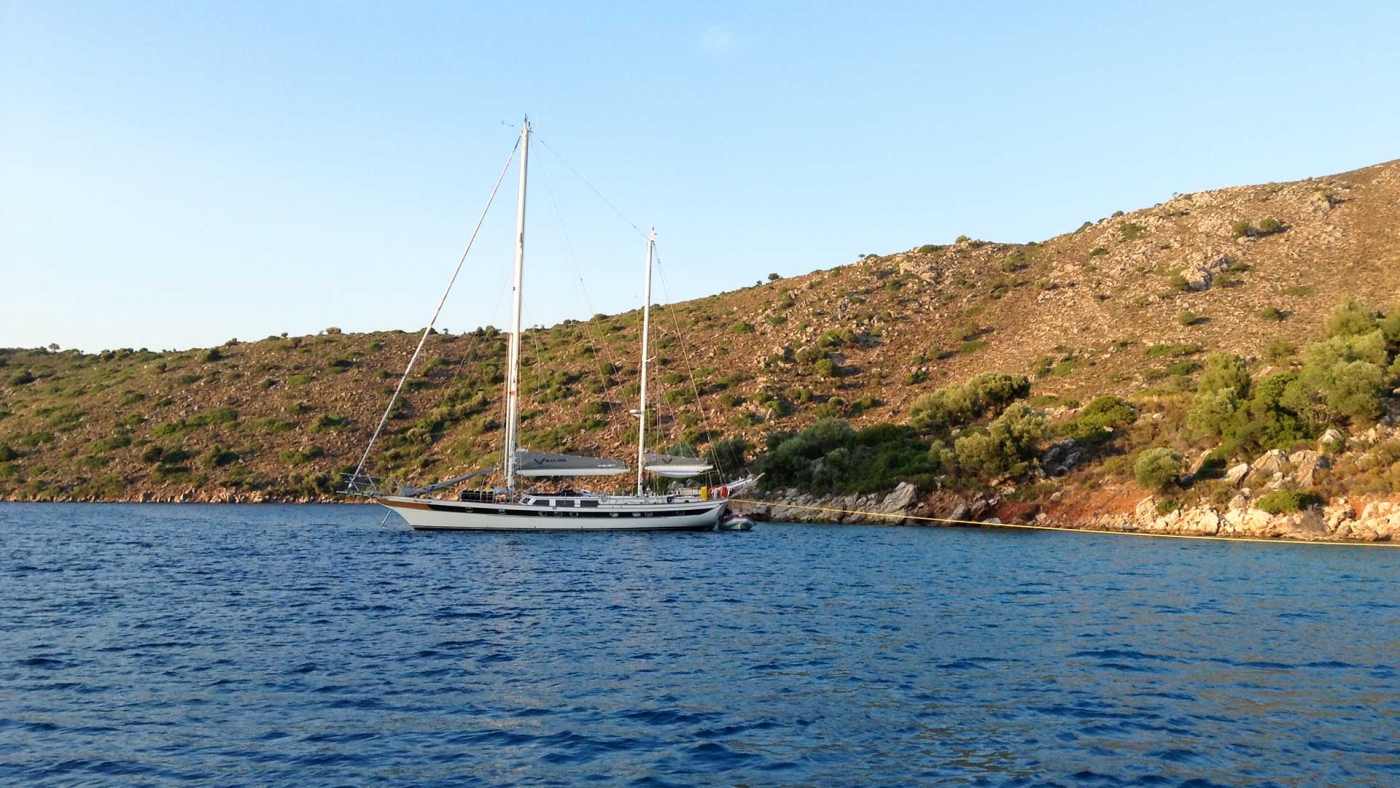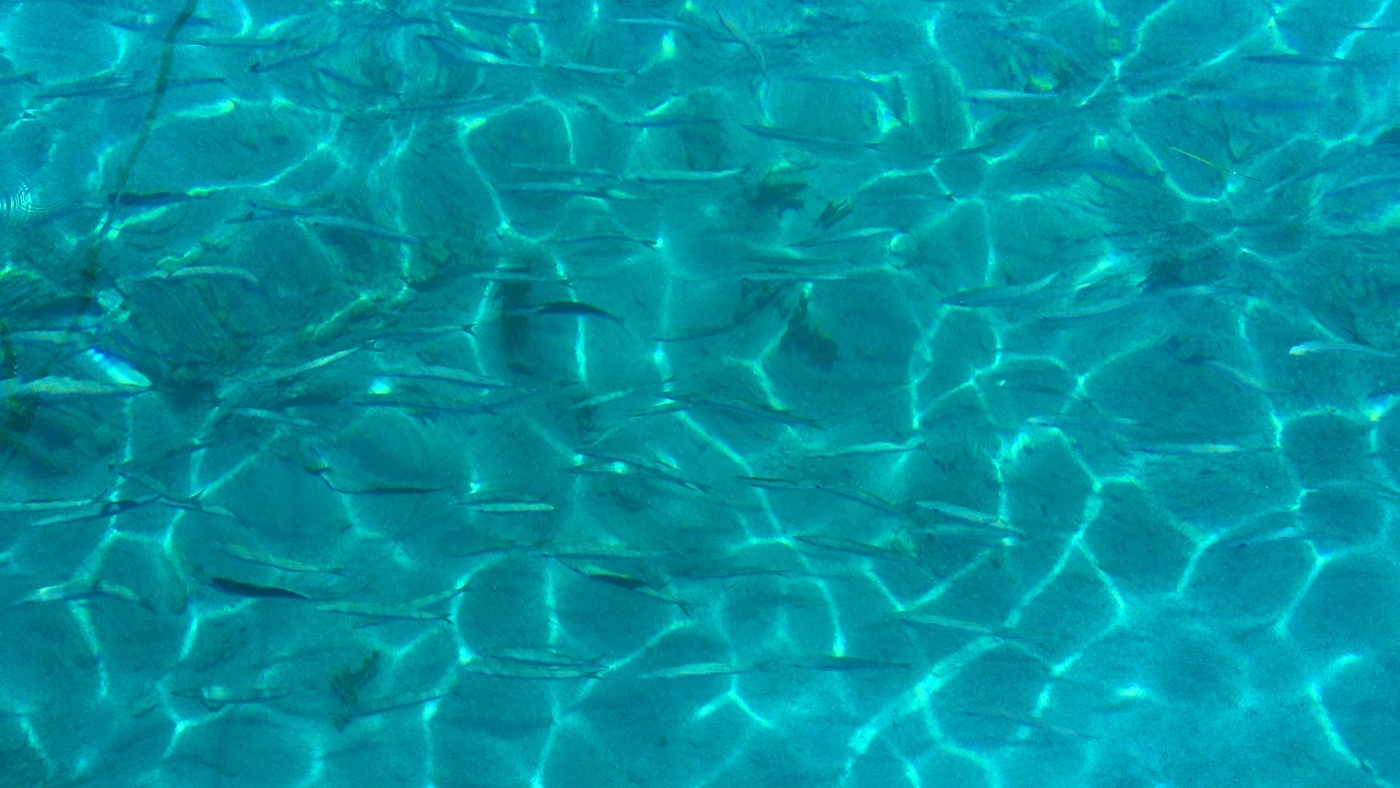 On the second day we visit the restaurant; Dirsek Buku. It is one of the most beautiful restaurants we found; in a white Mediterranean style and well designed and maintained. You can immediately see it is an upscale place. The second thing you notice is a bunch of kids buzzing around and soon you realize; it's staff. And by kids I mean ten-year-olds. The whole family is at work; the girls are cruising the bay selling cotton products, the boys are waiting tables and the older members are cooking and tending bar. All in all it's a nice setup. The dinner was delicious even though it arrived too quickly; it seemed the kid was running around the table for two minutes and suddenly there were all the courses on the table as well as a bottle of wine. We got it all before we started eating. The price was  actually near the same as elsewhere. We picked up a bottle of wine and two bottles of water for the boat (half restaurant price) and retired. Tomorrow we reach Marti Marina in Orhaniye – the final destination on out boat trip. The Dufour 335 "Kopernik" we chartered with Yelkenli served us well and we agree that this was the best sailing trip we ever did. The boat was perfect for the two of us, beautifully furnished, well equipped and maintained. We hope we'll get it next year again.
---
Part 4
(Jun 21, 2017)
MY MARINA
It's been a week sailing Turkey. We've seen it all, we thought. When inquiring with friends and tourists about a safe haven between Gocek and Marmaris, everybody pointed to Ekincik. Naturally we try to avoid all the most popular areas and it was no different with Ekincik. And as it is often the case, plans don't work out that well; the weather playedits role and we ended up in… Ekincik.
The bay offers several decent anchorages and in the bottom of the bay there is a shallow sandy beach and a village and a few restaurants but after all was considered, we decided on the "fancy place" – My Marina. Its capacity is about 50 berths. Its appearance; the most beautiful marina I have ever seen. Palm trees, cactuses, all nice and tidy, garbage separated, moorings maintained, staff educated. The garden was a dream, the restaurant immaculate, and the facilities very stylish.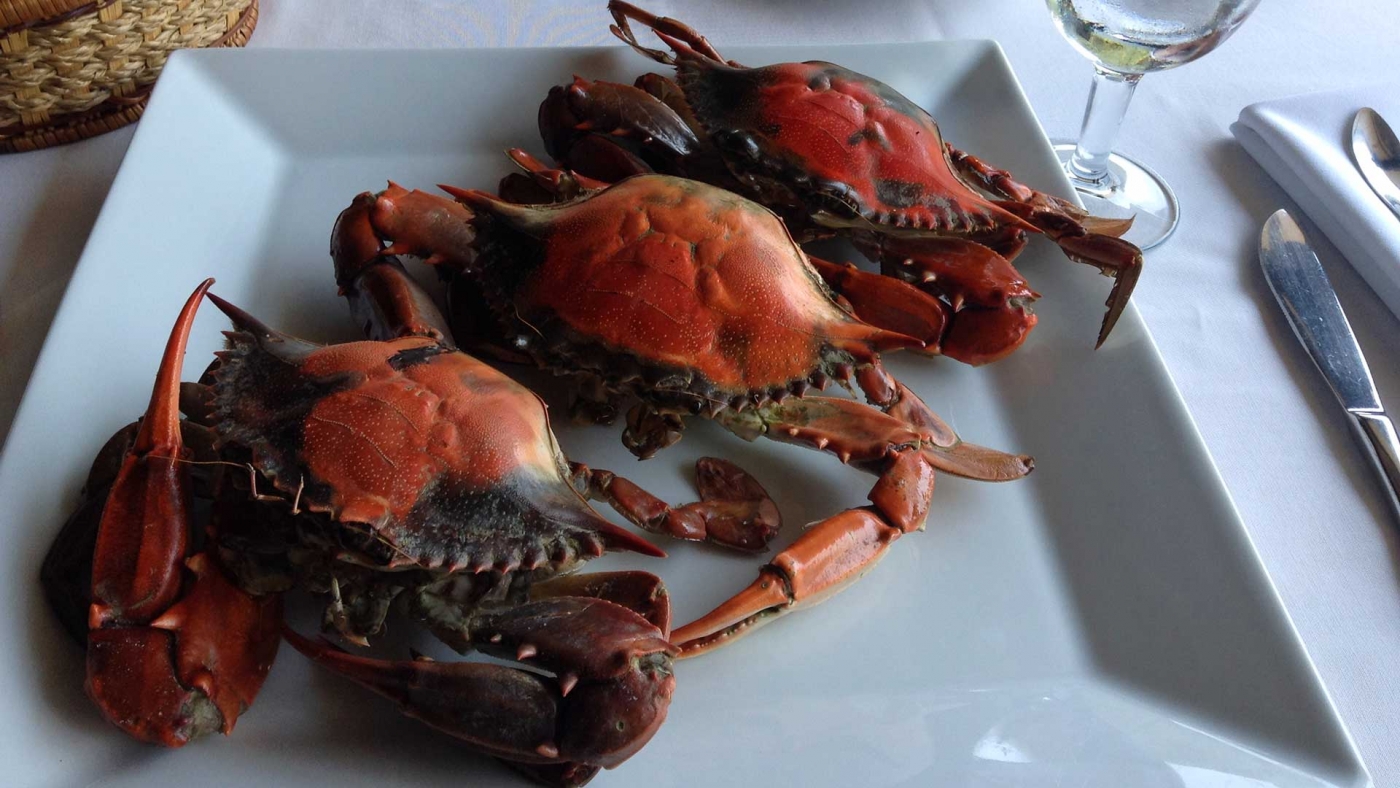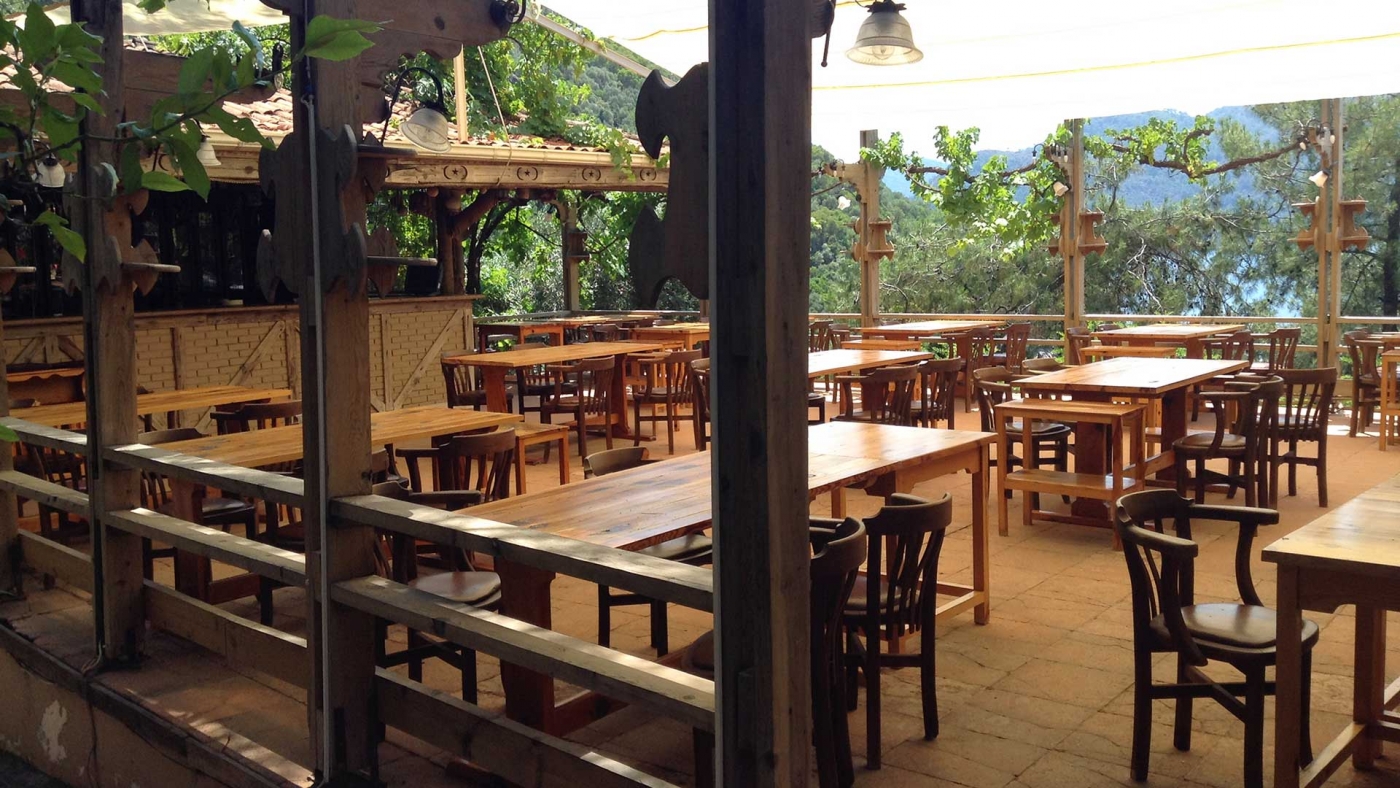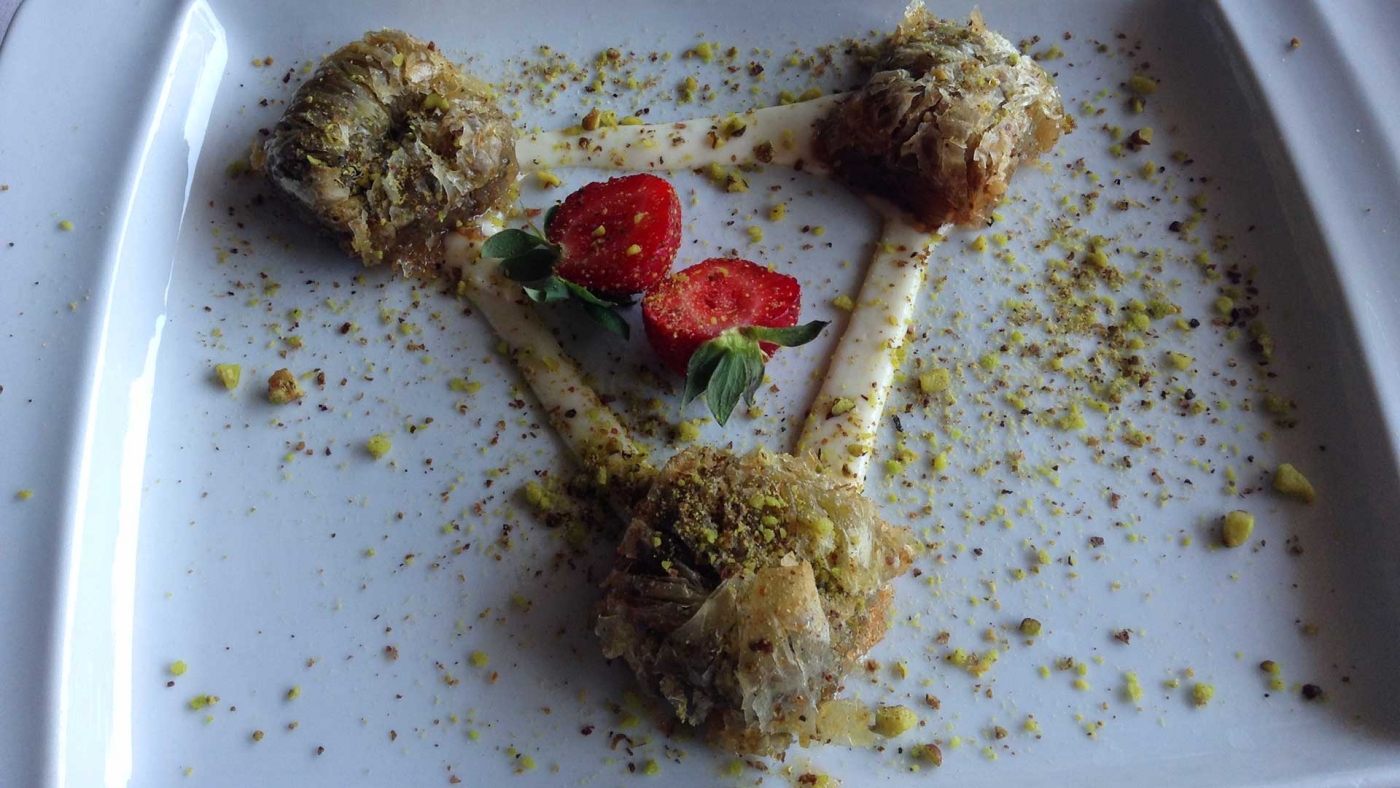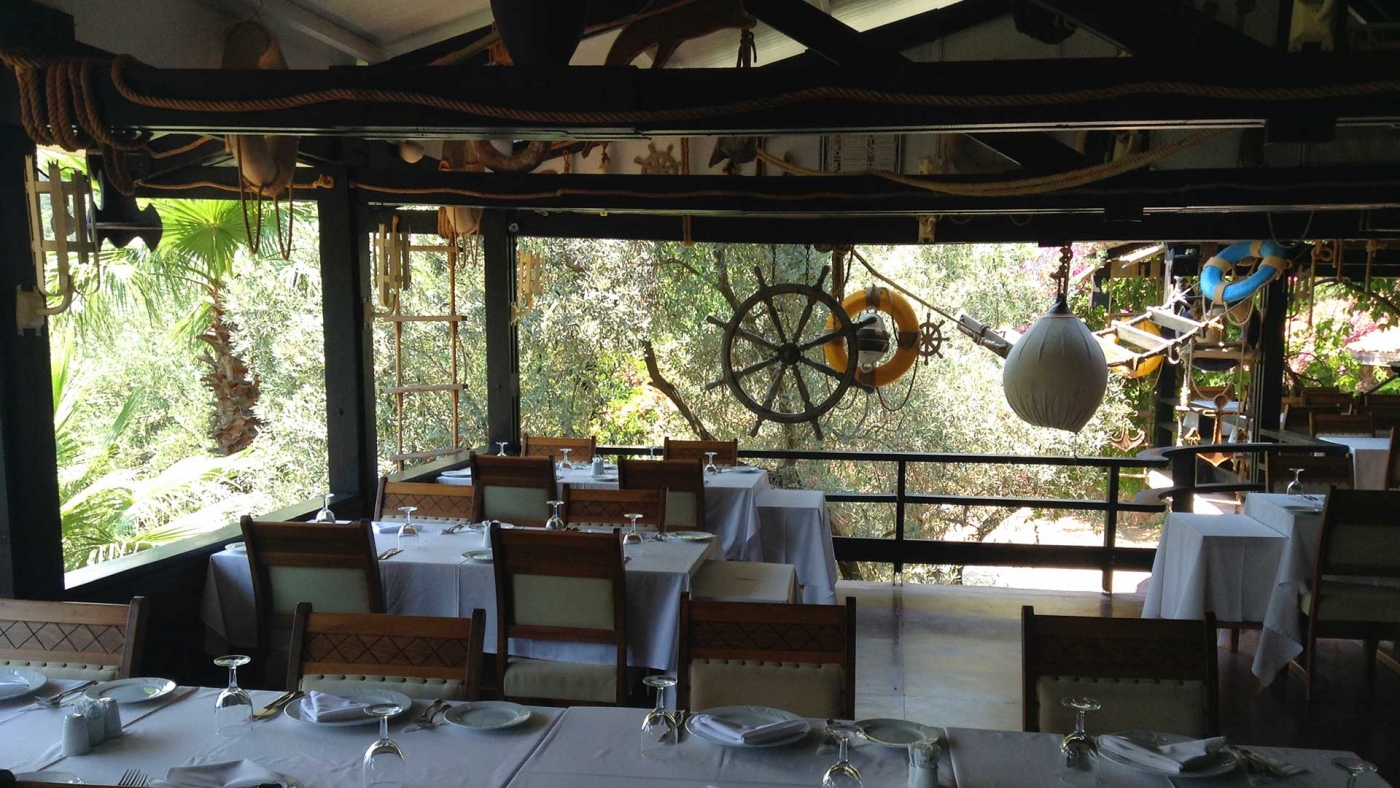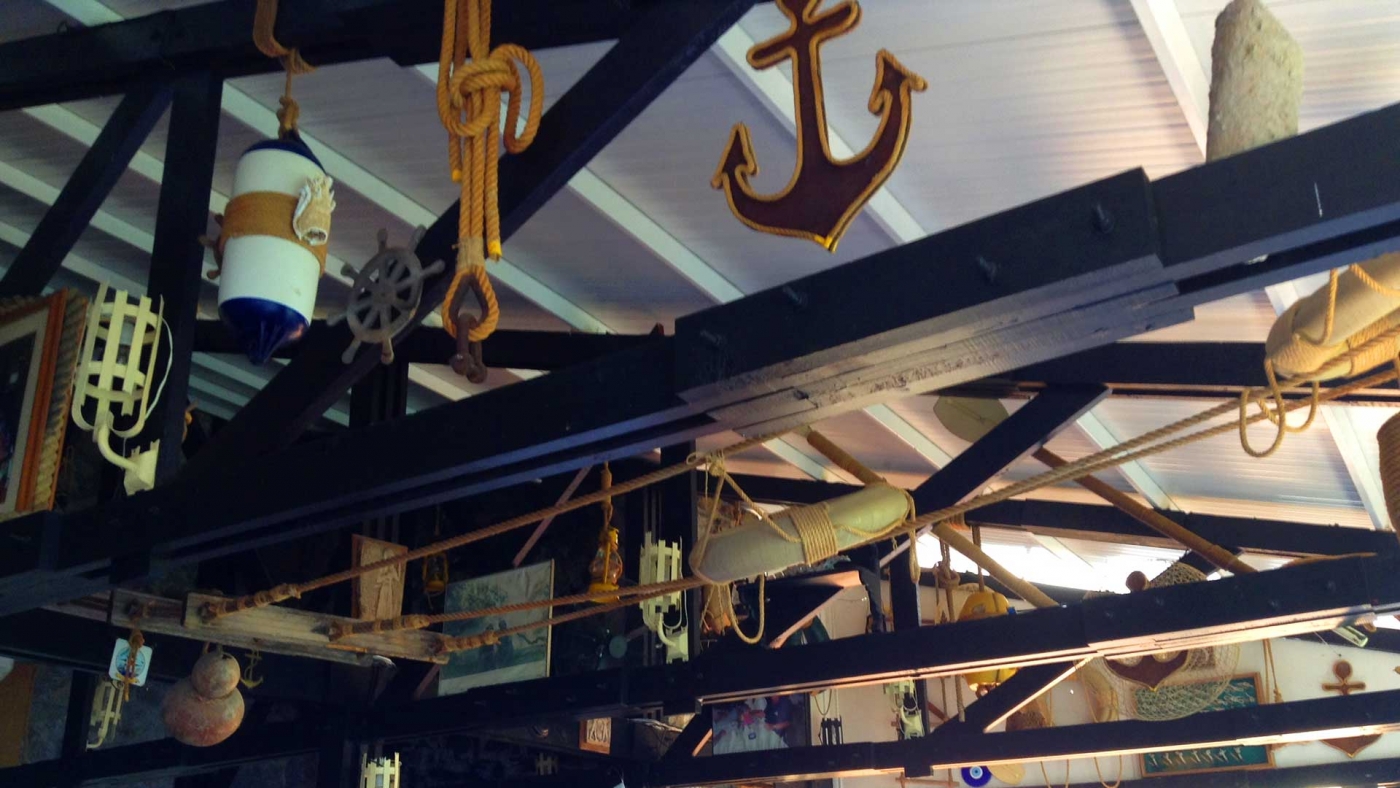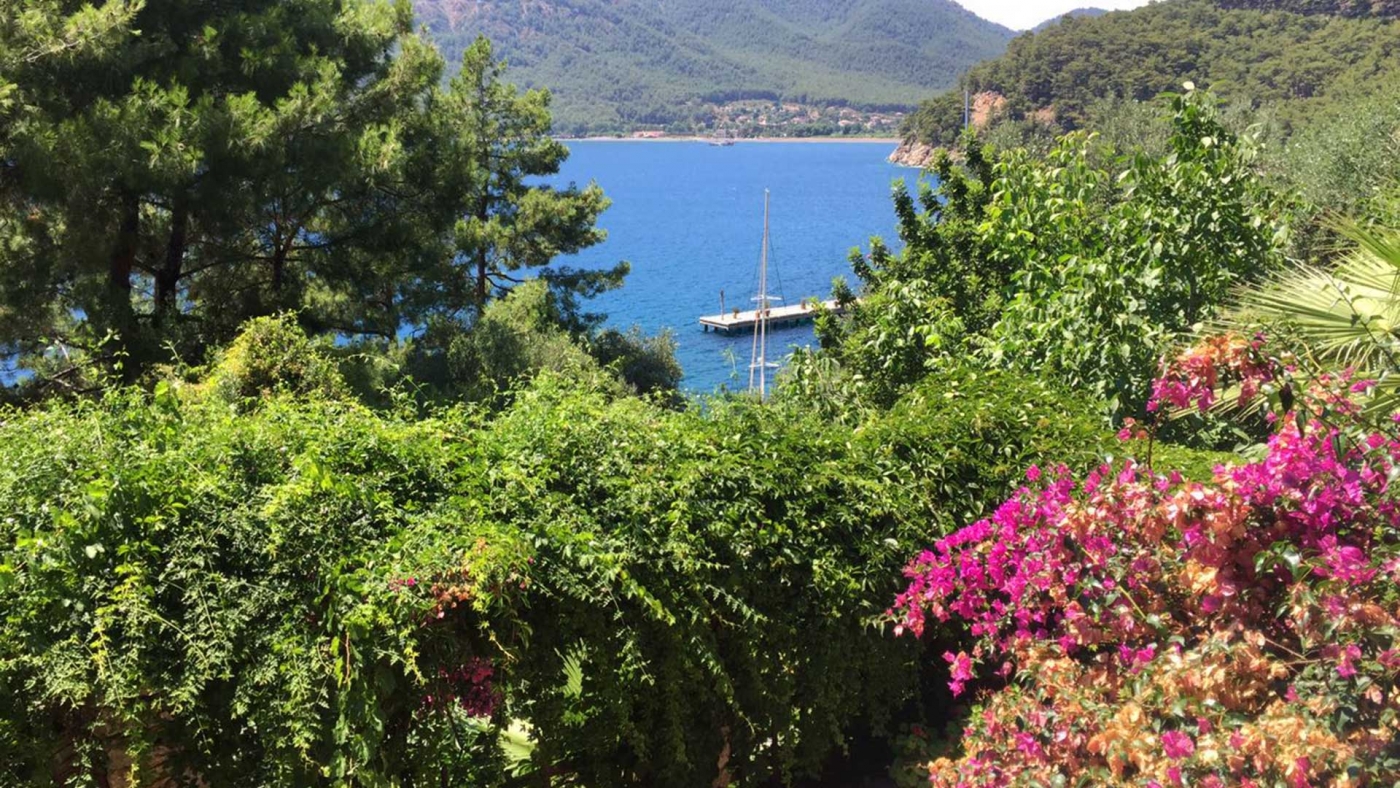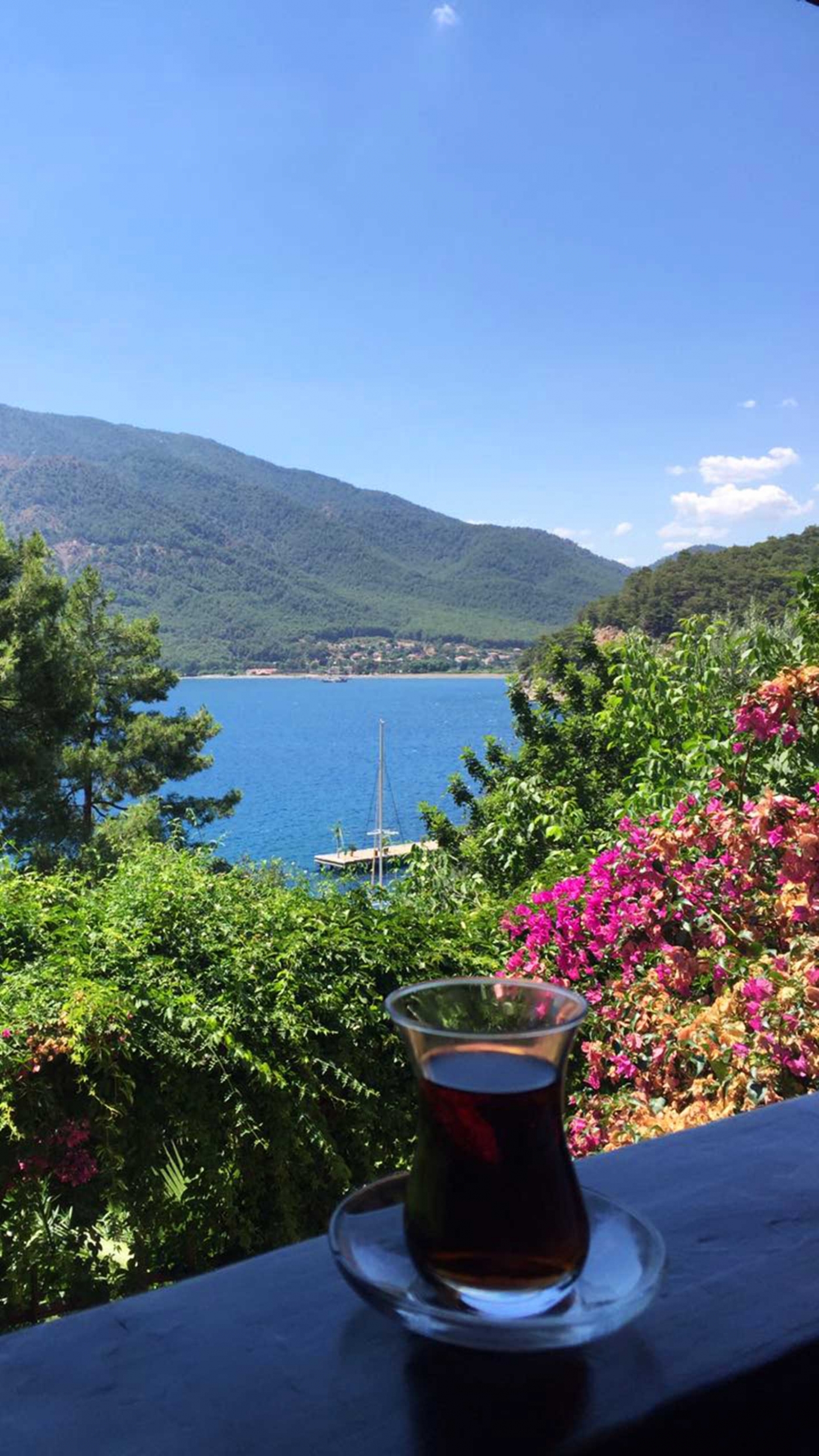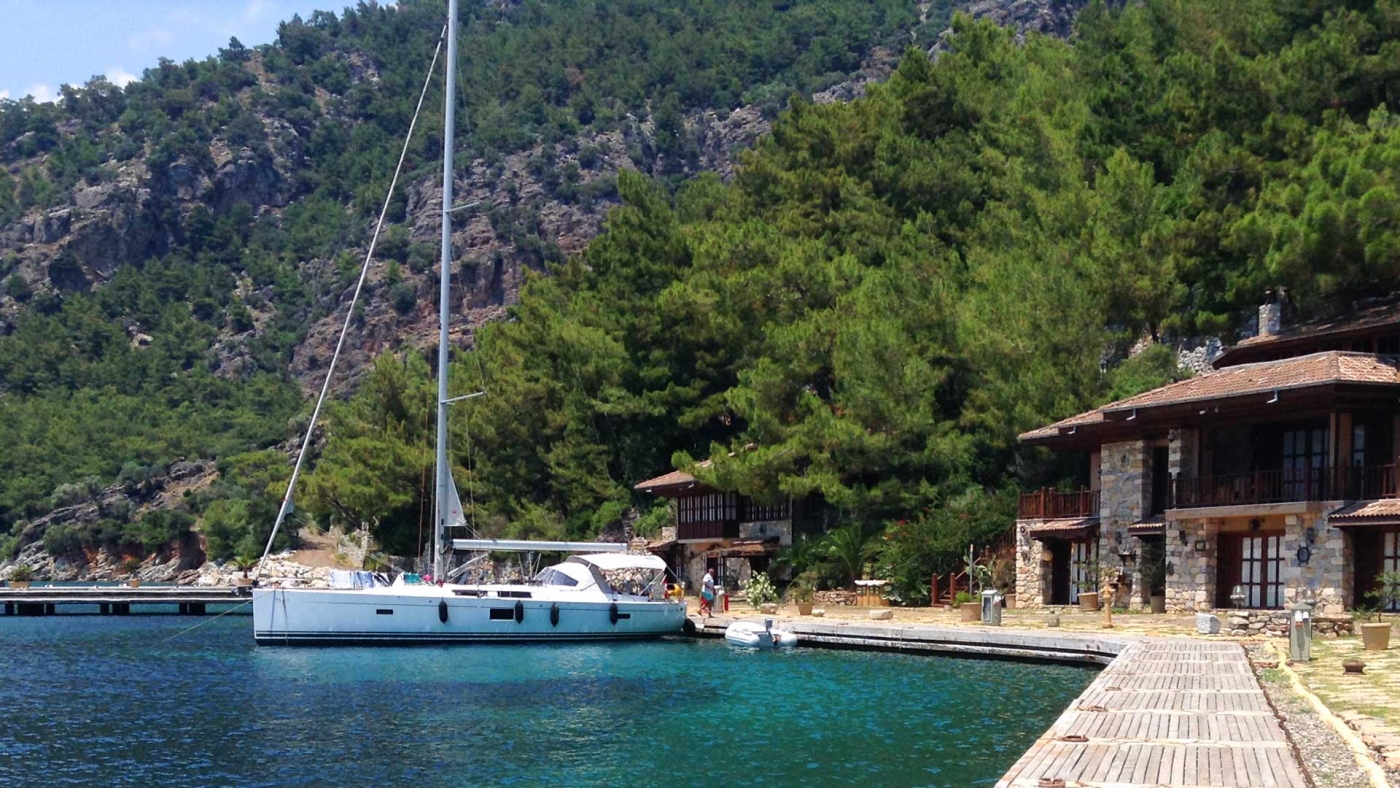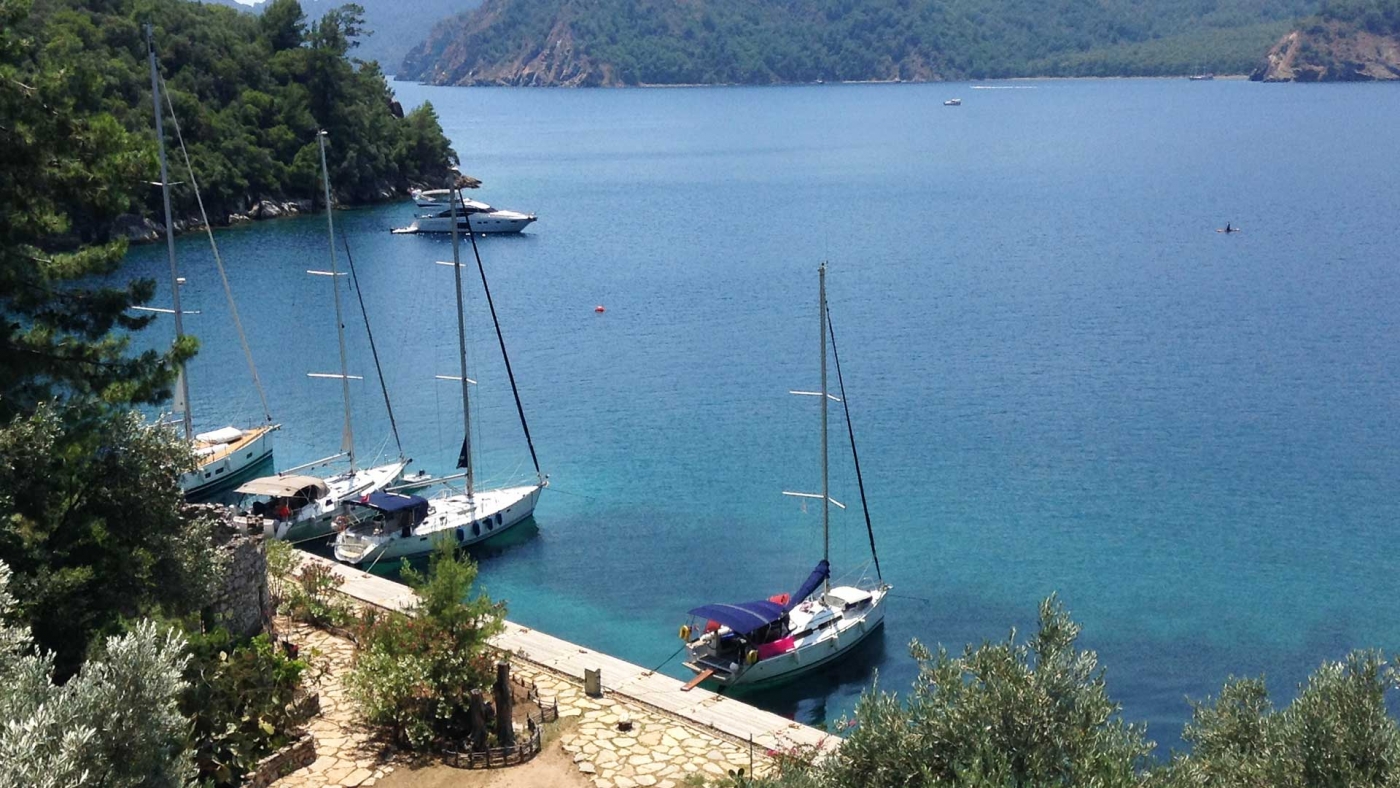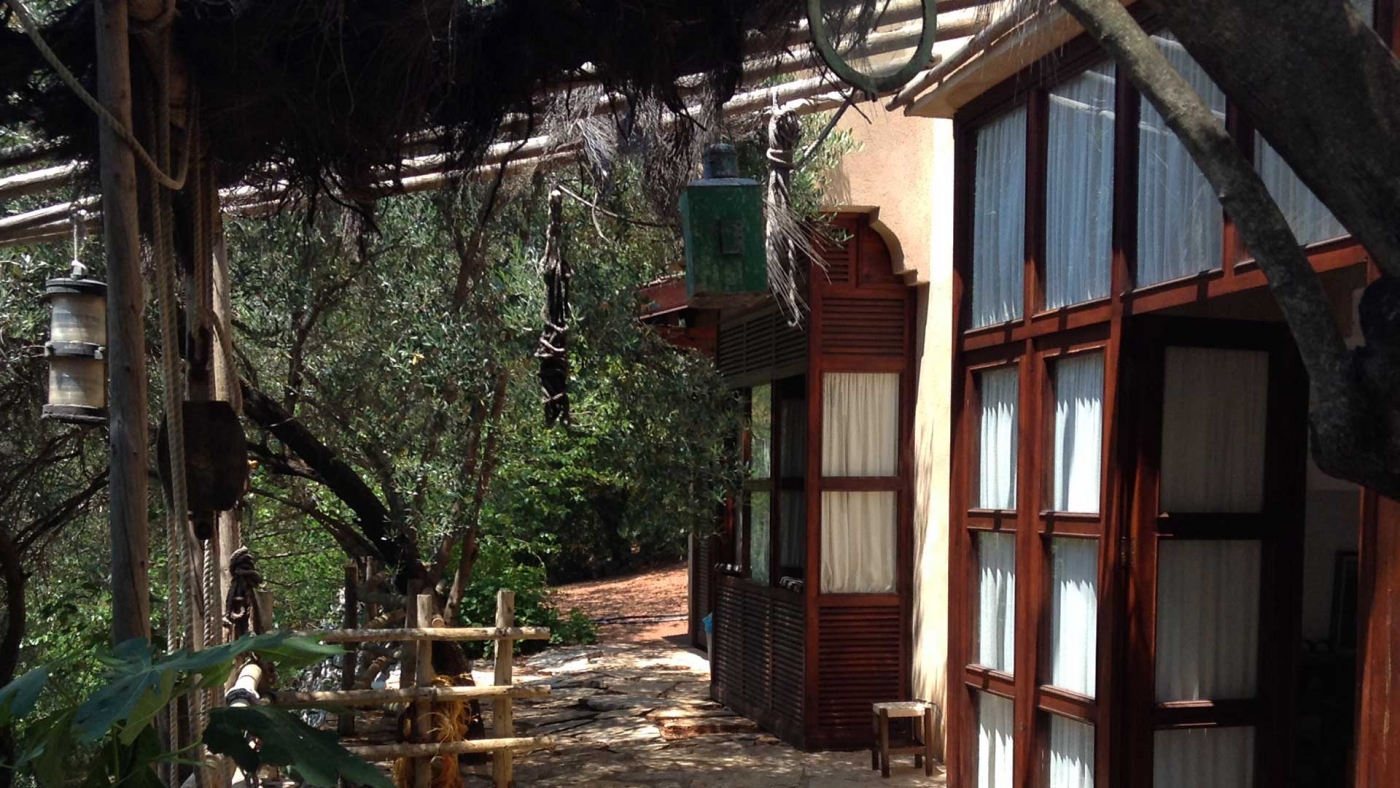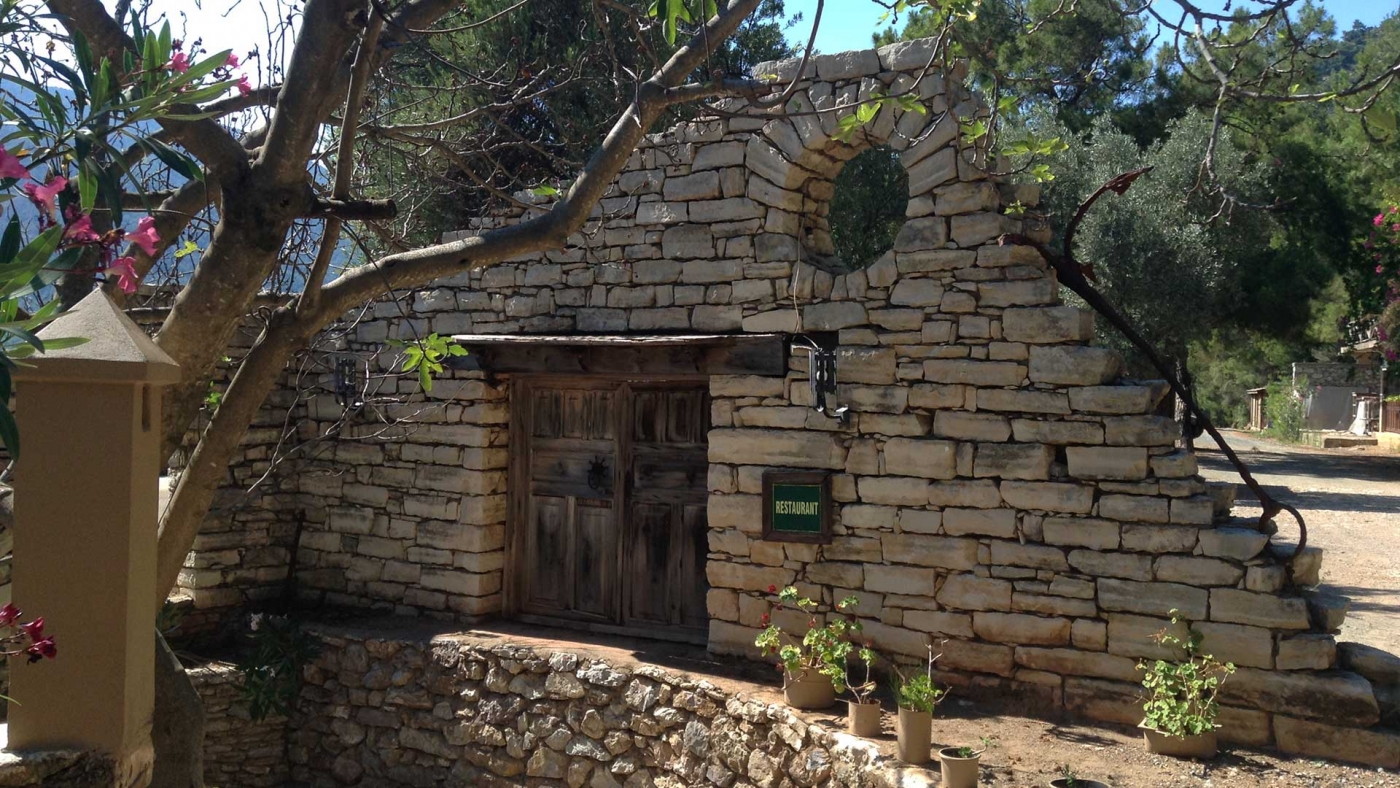 While walking the 5 minutes to the restaurant, we saw hens, squirrels, tortoises, and dogs. It was amazing even before we ate, before we met the people before we paid. It just got more amazing at every step we took. There were about 10 boats moored by the end of the day; 20% of its capacity. There were very few tables occupied at the restaurant. Nevertheless, the staff was forthcoming, cheerful and overall professional and nice. We feel blessed to have enjoyed this place that took so much effort to build, design, maintain and run. We feel that we gained so much for giving so little (daily fee for a 40ft is 17 EUR). I can only hope My Marina will not be half empty much longer – it deserves better.
---
Part 3

 
(Jun 19, 2017)
THE BAY OF GOCEK – THE TOWN
We skipped Fethiye due to lack of time. It seems it's a sailors curse.
Entering the bay of Gocek, you can see and feel the buzzing of tourism. Gocek is but a small pristine village, yet it is a beehive of activity. While sailing into the seemingly vast port, the settlements are hardly visible behind the colorful wall of yachts. Mega yachts, gulets new and shiny, gulets old and shabby, sailboats of all shapes and sizes, catamarans scattered among them. Daily trips, local fishermen, holiday sailors… the life in this port and around it is almost palpable. It vibrates with optimism and splendor.
We docked at the Skopea marina; the "mega yacht marina" – in fact all of the 5 marinas in Gocek are mega yacht marinas, nothing less would do. And don't get me wrong, this is not Monaco – this mountain of boat is fully down to earth, humble, just going about its daily routines. No spectacles are made of one boat – everyone is but a drop in the bucket. And a wonderful bucket it is.
We came to Gocek to meet friends; Serhan Cengiz of Vela Dare Yachts, Sema Korpe formerly of Navigare Yachting and others. We are meeting them in town; the seaside is also the restaurant district; a mile long strip of beautiful restaurants, bars and shops. It is color and splendor again, but only a few tourists milling around. Not empty but definitely airy.
We are meeting in the DIM Elit Hotel, one of the dozen main restaurants on the strip. The terrace is breathtakingly beautiful but also unique, as are all the terraces in Gocek. They literary seem like art masterpieces that nobody came to admire or appreciate. Or very few at least; we are here.
The dinner was a spectacle of seafood and culinary excellence. Not to go into details there was a fish on fire and a parade of crustaceans and an avalanche of spices and gorgeous wine, and then everything melted together in a suiting sweet aftertaste and a calm of baklava and Turkish tea, and then came the bill and I smiled more and I knew then that this will stay a fond memory for a long time.
In the morning we paid the marina, marveled at the low expense of docking in town centre, and sailed out.

THE BAY OF GOCEK – 22 FATHOM BAY
Sailing through the bay of Gocek keeps you in the same setting as the port; every bay is an anchorage, there is a yacht sailing in every direction, throughout the maze of islands and channels. We skipped the Wall bay and Ruin bay (both amazing bays), checked out Seagull bay and settled in 22 fathom bay. It is a beautiful bay with a strange name and an even stranger restaurant. It is a beautiful bay with a strange name and an even stranger restaurant. The owner's name I, unfortunately, couldn't memorize but he gladly refers to himself as Amigo so we'll do the same. It seems
It is a beautiful bay with a strange name and an even stranger restaurant. The owner's name I, unfortunately, couldn't memorize but he gladly refers to himself as Amigo so we'll do the same. It seems as a mirage at first; shapes and colors not definable, size and purpose not clear. It is a web of floating debris acting as jetties, tents that are the host's settlements and a moored boat that is actually a kitchen. There is an oversized raging fireplace in the middle just for the fun of it, a literal oil pit for frying and a huge brick oven for fish and casserole.
Generations of Amigo's family run the place; he is clearly in charge but also finds time to chat with each and every guest present. He was born in the 20's but his English is surprisingly fresh and agile. We had a smart conversation with Amigo and a perfect dinner. Even though the place gave a post-apocalyptic appearance it was an utterly tranquil place and altogether a most enjoyable experience. Unique, we agreed.
In the morning we would venture to Asi bay and Ekincik, then further to Marmaris. But first we would savor this beautiful 22 fathom bay for another day.
---
Part 2
(Jun 17, 2017)
F
ROM DALAMAN TO KAS
As we opted for a one-way charter from Kas to Orhanye, through courtesy of Anil Civi of Yelkeni Yachting, a 2-hour transfer was needed. With a stop in Fethyie for dinner we were in Kas by the early evening. The dinner in Fethiye, at the Girida Restaurant was nothing short of spectacular; a hedonistic parade of fresh seafood, the crunchiest vegetables imaginable and spices that leave no doubt that you are indeed finally in Turkey.
KAS
After a day of traveling, we can finally stop to look around. Kas is a quaint little town, as touristy as one would expect. Even with quite literally a hundred restaurants and cafes buzzing with activity, its Mediterranean charm is still intact. The architecture, the local population and smells and the feel of vacation – one doesn't want to leave at all. After a beautiful breakfast at the new western-style Kas Marina, we parted with Kas seemingly too early but other places wait to be discovered.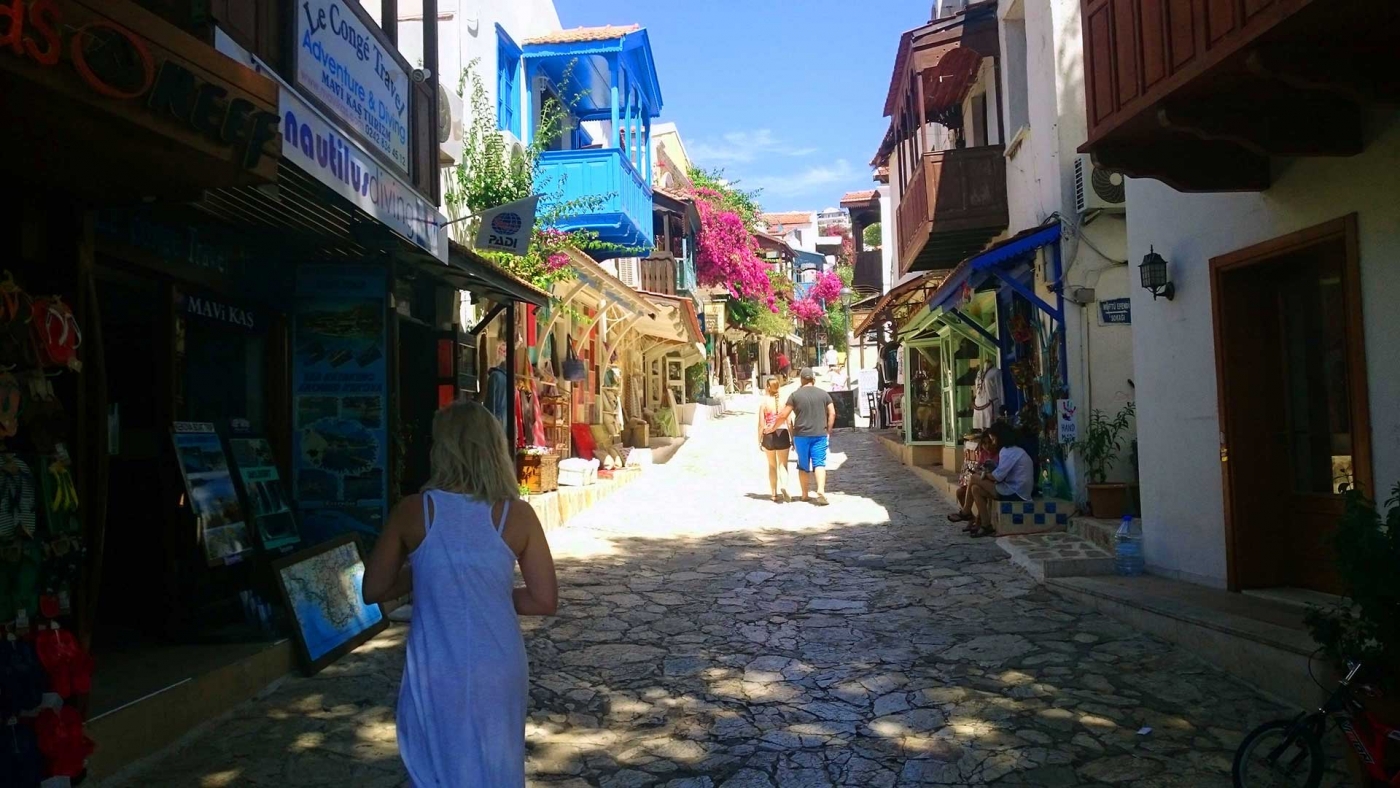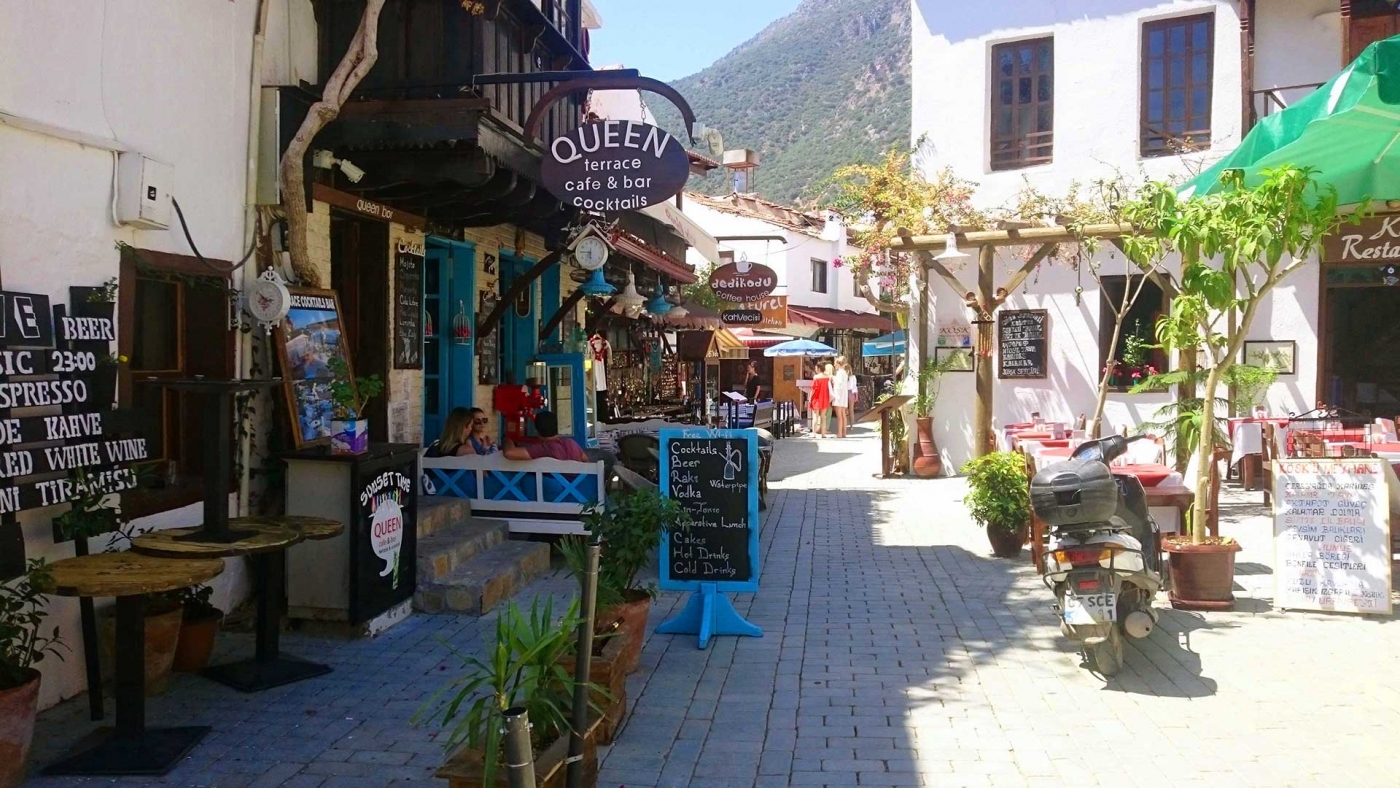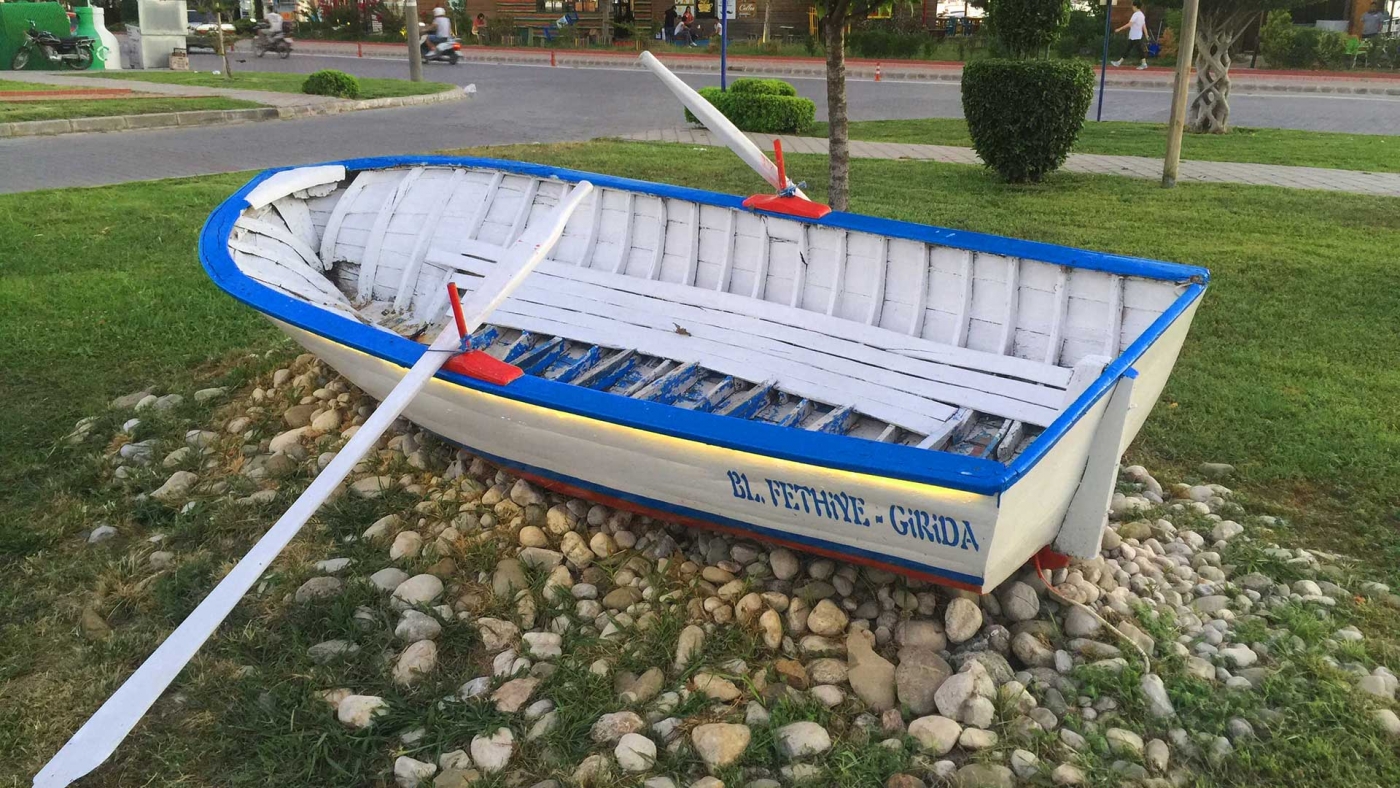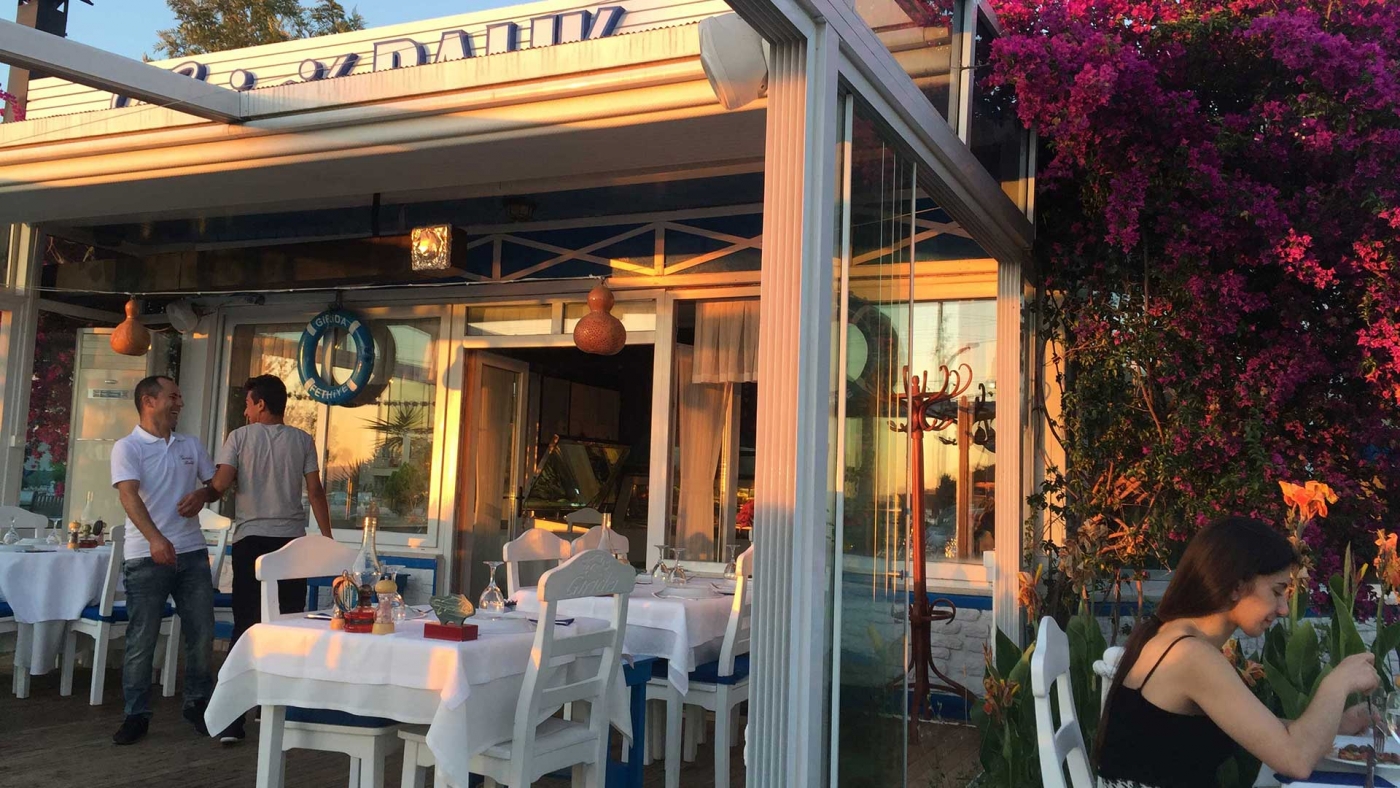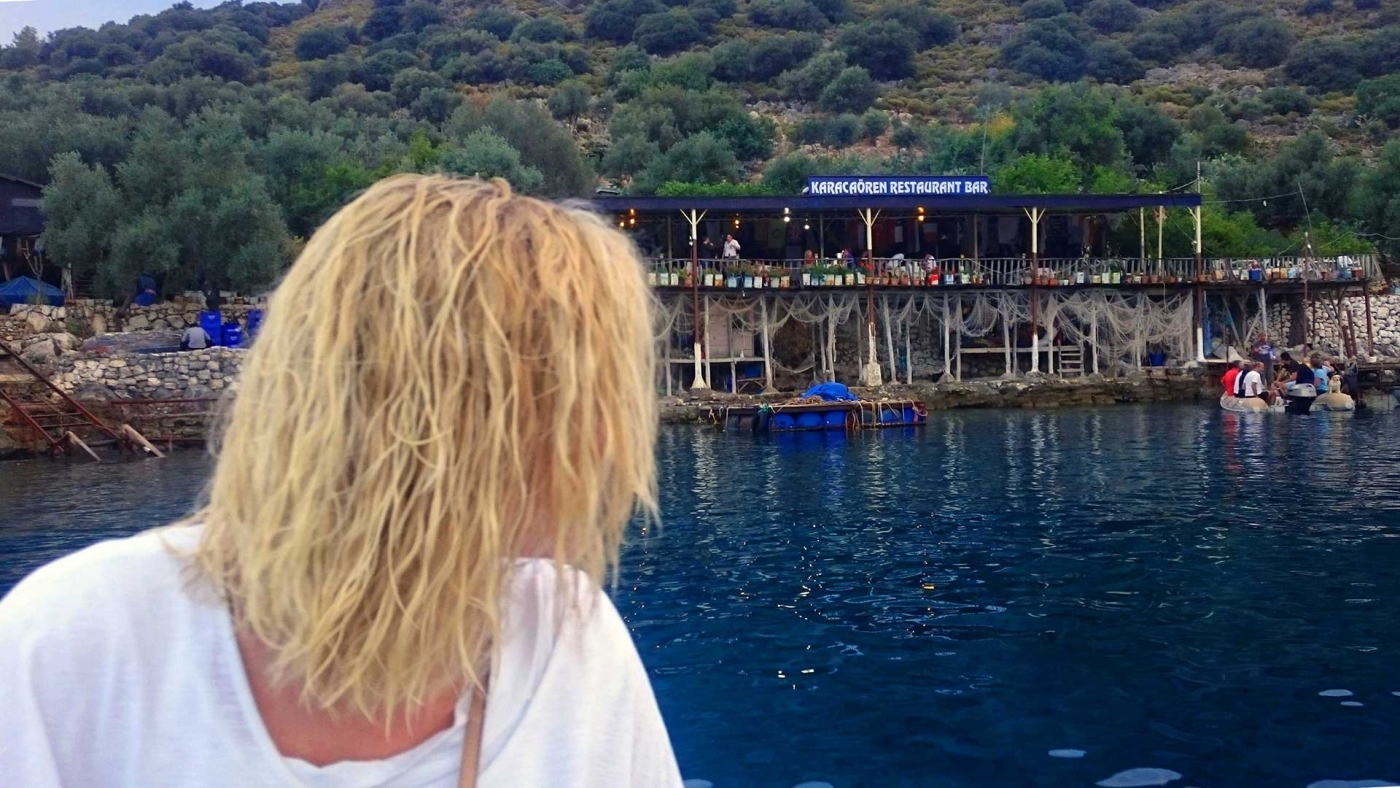 KALKAN, PATARA BEACH, THE SEVEN CAPES & OLUDENIZ
Finally at sea. With our coastal travels accomplished, we are now occupied with the basic sailor's worries – where to eat next. Yesilkoy bay near Kalkan strikes me as the perfect bay to accommodate a hundred boats at anchor, yet in two days we spot only a half a dozen. It's safe, it's uninhabited and turquoise. Again I wish there was more time – a feeling that most of us find unsettling but also makes us appreciate the here and now.
The six-hour sail from Kalkan area to Kalakoy area is a harsh one; with the impressively long yet unapproachable Patara beach and the Seven Capes offering little shelter, one should plan this leg carefully.
The famous Oludeniz beach is worth visiting but for a sailor with any serious safety standards anchoring there overnight is out of question. Thus we proceed to a nearby restaurant Karacaoren offering mooring buoys for tired sailors as if all had just crossed the Seven capes and in need of rest. Not surprisingly, we stay for two days. The bay is magnificently turquoise, the hosts are as friendly as can be and the food is good enough. Seems boaters cannot help thinking if the people living and working here are indeed the lucky ones.
Once settled in the bay I set back and inspected the surrounding boats; only a few private boats, half-empty gullets and luckily a very small but highly welcome flotilla by Yildiz Yachting.
On the second morning we will depart for Gocek. The nautical hub of the Turkish coast is calling.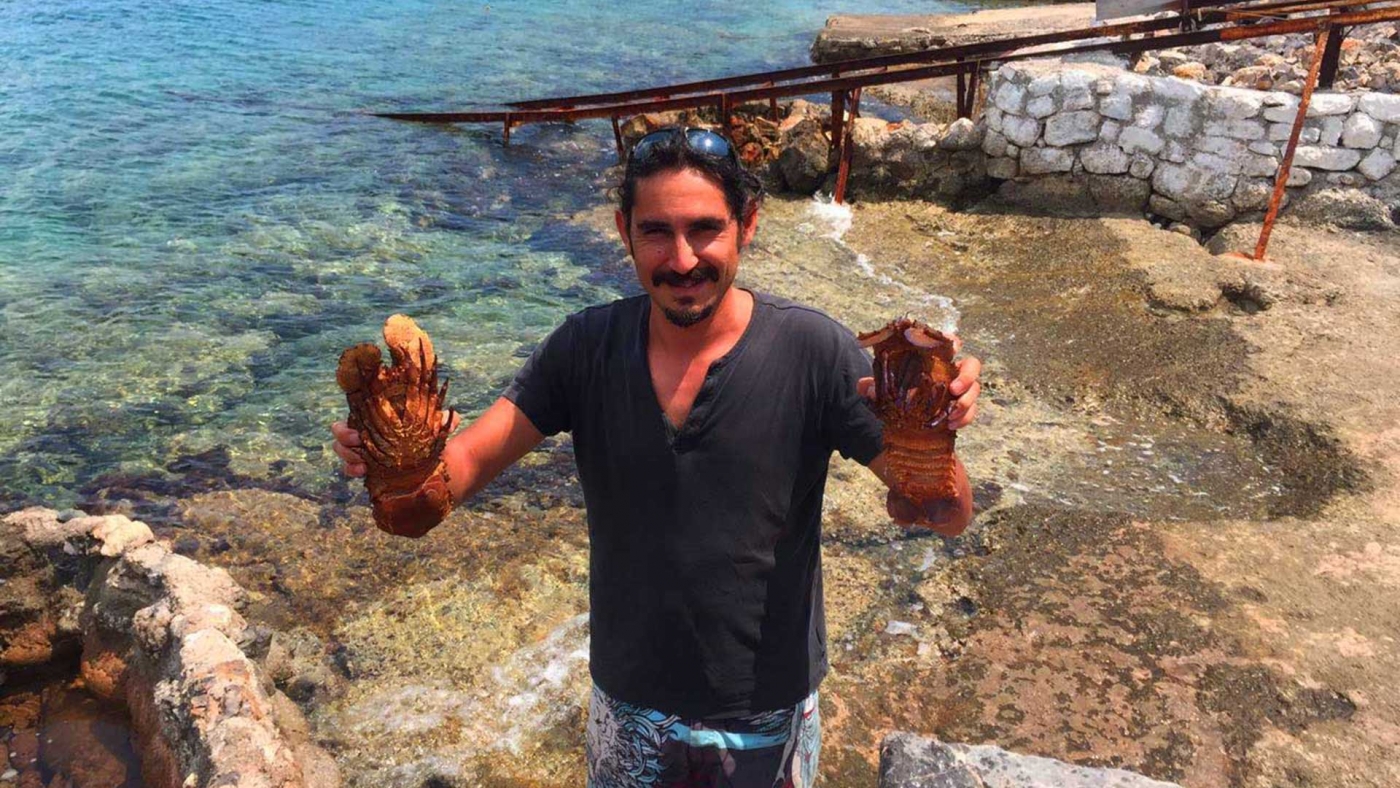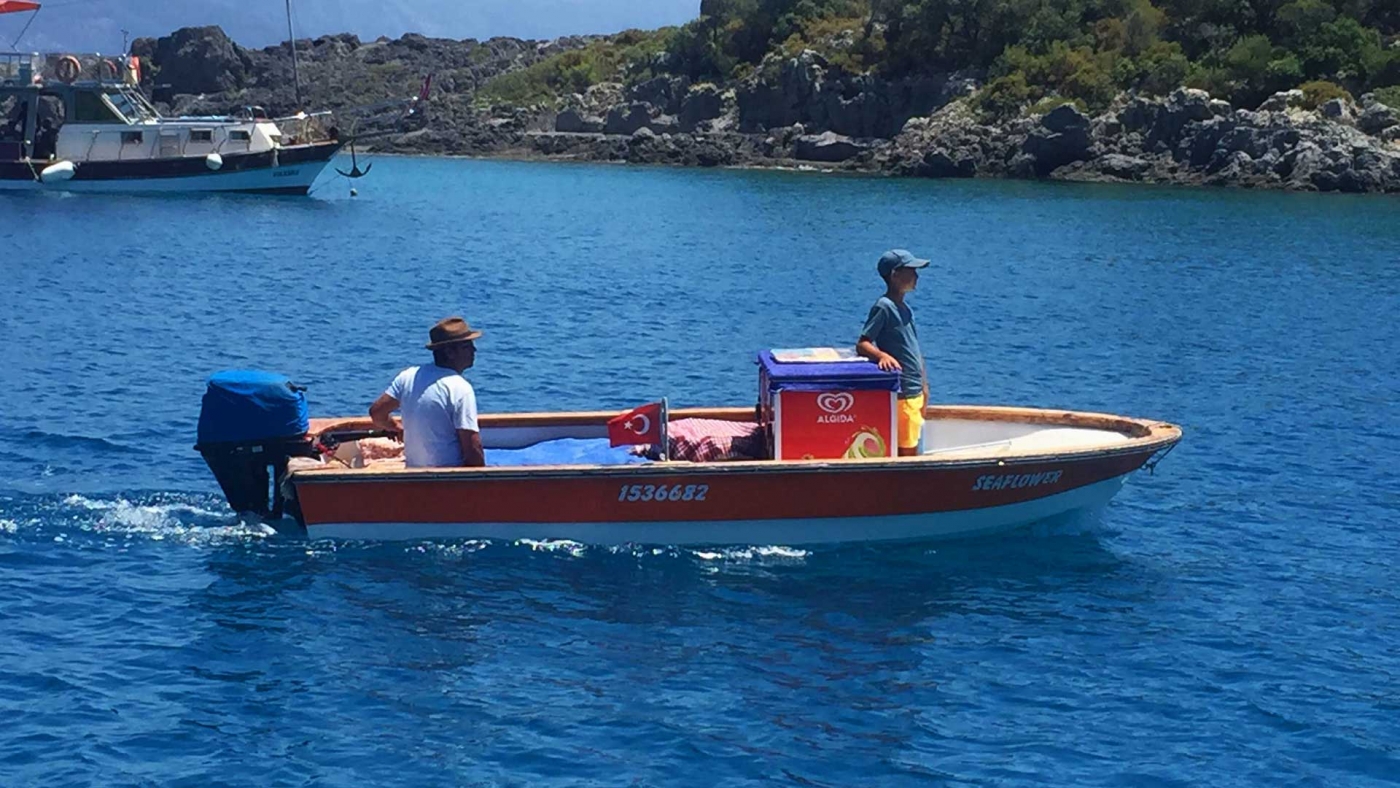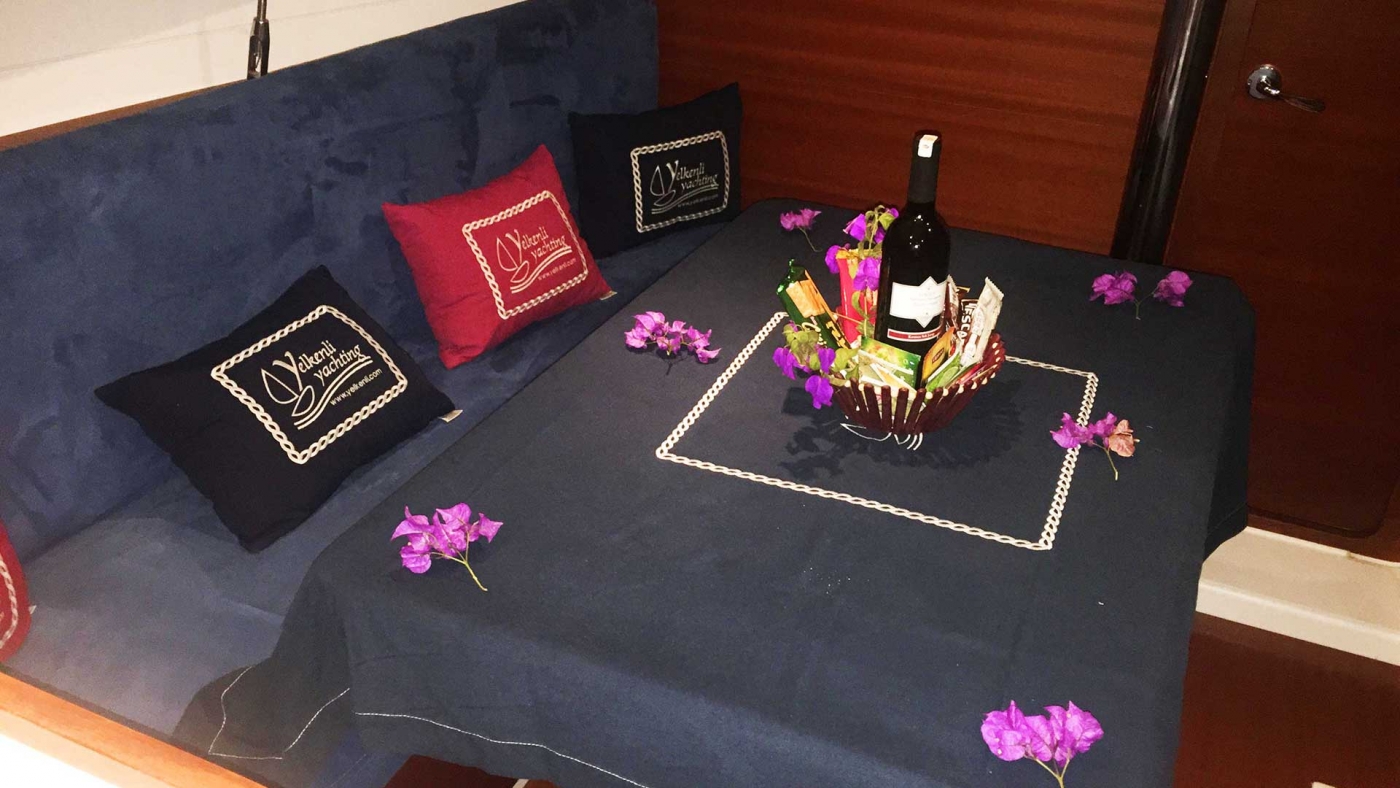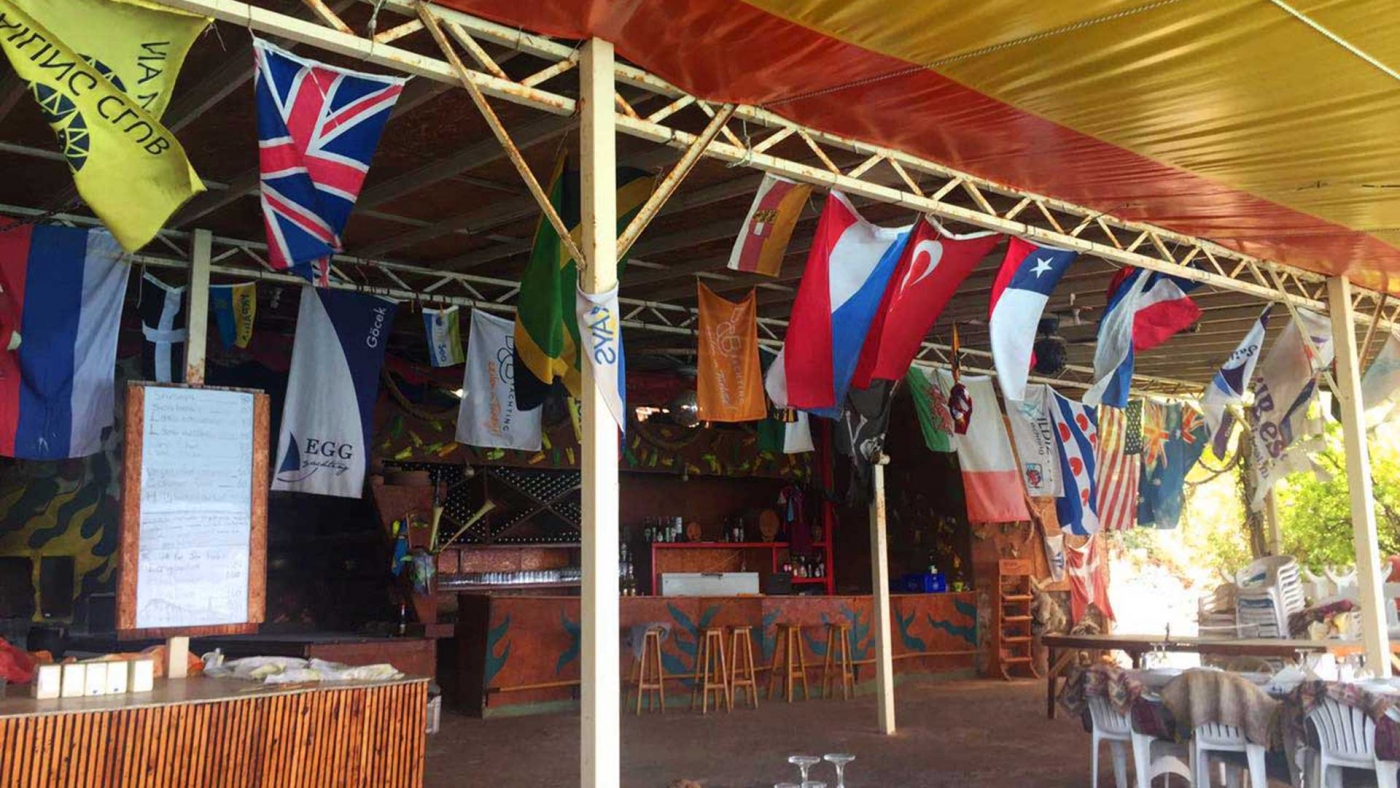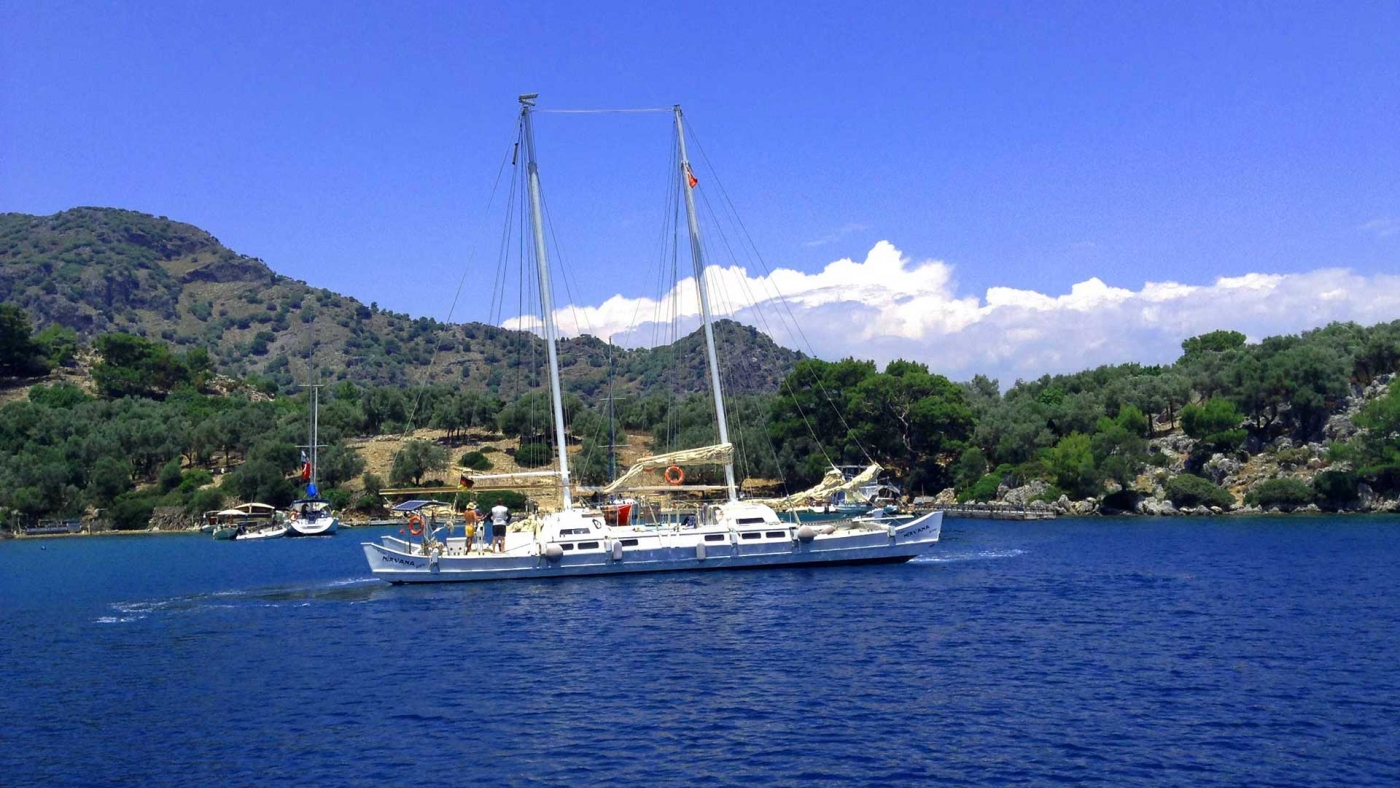 ---

Part 1
(Jun 16, 2017)
THE WHY 
Since the first year of the major tourism decline in Turkey, there was a discrepancy between what's really happening and the media version. This is not new to us – the media, albeit crucial for the democratic freedom we enjoy – often focus on the negative, the captivating and especially the shocking elements in order to boost their ratings. And this is how the annihilation of the Turkish yacht charter began.
My decision to sail Turkey this year was naturally met with skepticism from all sides. My intention was to have a nice sailing vacation with my wife but also to move the general opinion if only by a thread.
In these 14 days I will report my impressions as true as I can, without an agenda or bias.
THE ARRIVAL 
We flew Zagreb – Istanbul – Dalaman. There was an option to fly directly from Graz or Vienna to Antalya but we opted for the lazy version with no driving involved. The cost of airfare was in the area of 300 EUR – not the cheapest fare but far from pricey.
After touchdown in Istanbul you get re-routed to the domestic terminal which is not as colorful as the international one. Even though small and quite a bit rowdier, it offers everything one needs to feel at home; a cozy Starbucks, a few stylish independent coffee shops and a large food court with an impressive offer of Turkish food and snacks. The layover time flew by as it would elsewhere. The flight to Dalaman was uneventful. On arrival we were greeted by our friendly host Idris Ucar, scorching sunshine and a heat wave – a clear sign that the holiday is about to begin.