Driving range distance
ICE being moved to Vienna will surely benefit all the companies which plan to visit the world's biggest charter expo that are in driving range to Vienna. Companies that are in driving range distance will save their money on flight tickets therefore making their visit to ICE even more affordable and effective. Here's a list of the biggest cities in a max 5 hour driving range from Vienna:
Budapest 2h 28m – 243 km
Bratislava 58m – 78 km
Brno 1h 46 m – 135 km
Prague 3h 48m – 333 km
Munchen 4h 33m – 435 km
Graz 2h 14m – 200 km
Ljubljana 3h 51m – 384 km
Salzburg 3h 8 m – 295 km
Moreover, driving distance from 4 to 6 hours to Vienna is more than doable and affordable to companies from these cities and surrounding areas:
Krakow 4h 54m – 463 km
Nurnberg 5h 31m – 504 km
Munchen 4h 33m – 435 km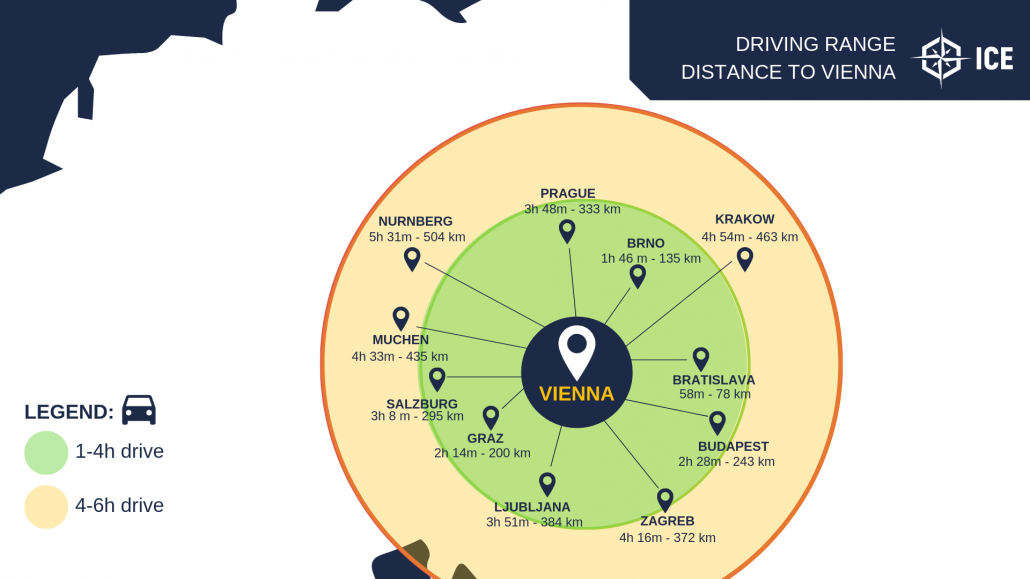 Better flight connections with Vienna
Vienna Airport is one of the biggest and most connected airports in Europe offering direct flights from nearly every important airport in Europe and worldwide. Better flight connections means a quicker arrival, no connecting flights and definitely cheaper fares.